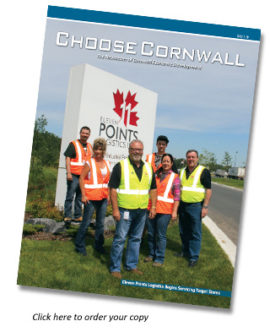 Cornwall Economic Development Issues Newsletter
August 14, 2013
Cornwall Ontario – Cornwall Economic Development has published a newsletter highlighting the recent major development stories in the city.
The newsletter features 12 pages of full colour photographs and accompanying stories and profiles both commercial and residential development projects.
"It is important to recognize the investment made by companies and the impact it has on the local economy," said Mark Boileau, Manager of Cornwall Economic Development. "The newsletter does a good job of grouping these stories in one publication."
The cover story of the newsletter is the opening of the Eleven Points Logistics Distribution Centre, which started shipping goods to Target stores this month.
"At 1.4 million square feet, this facility is one of the largest single phase construction projects in Ontario," said Mr. Boileau. "It is already a key economic driver, employing hundreds."
The newsletter showcases the expansion of Olymel in the Cornwall Business Park, the recent relocation of Laminacorr, investments at MPIQC  and downtown revitalization projects such as Dominion Place, Pommier Jewellers, Table 21 and the brand new restaurant Bar Q.  Other stories include current construction projects at Goldmanco, Eastcourt Mall and King's Landing, as well as new developments at St. Lawrence College, the River Institute and Cornwall Community Hospital.
The magazine was put together by Department staff, and designed by local agency Persuasive Design.
The newsletter is expected to be a popular addition to the information packages that Cornwall Economic Development sends out to business and residential investors. In addition to trade shows and other efforts, the City Department is mailing the magazine to over 4000 individuals, businesses and government officials in Canada, the United States and abroad.
A copy of the newsletter can be obtained by filling out the request form on this website or by visiting the Cornwall Economic Development offices at the Civic Complex.