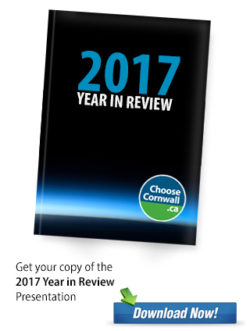 Cornwall Economy Continues Positive Performance in 2017
December 14, 2017
Cornwall Ontario – Over 300 business and community leaders received a positive report outlining positive trends in the Cornwall economy.
"Our economy continues to see positive growth fuelled by investments from all sectors, and by companies both large and small," stated Bob Peters of Cornwall Economic Development.
Cornwall Economic Development has delivered the annual recap of business news for the past 19 years, gathering information from such diverse sources as building permits, media and from submissions from local businesses.
The report recaps over 200 stories of investments and achievements by local companies and individuals.
"People leave the room smiling every year," said Peter Gault, Chair of Team Cornwall. "Even though some of it is information we have heard before, it is powerful to hear about all of the year's development news in one report, and there are always more than a few announcements that are a positive surprise."
Here are some of the highlights from the presentation, which can be downloaded from the ChooseCornwall.ca website, along with reports from previous years.
Commercial
Dozens of commercial businesses opened or expanded operations in Cornwall this year. These include Ontario Hockey Academy, which is home to 135 athletes from around the world, and the Cornwall Innovation Centre which is helping to accelerate 11 innovative young companies. Development was seen in all areas of the city, including  Major new investments were made by local gyms in preparation for the arrival of Planet Fitness this month.
Industrial
The opening of the new 1.8 million sq.ft. distribution centre for Walmart Logistics was welcome news, supported by news of growth at Seaway Express and Minimax Express. Local manufacturers also expanded in 2017 including SigmaPoint, Morbern, Ridgewood and Laminacorr.  Companies such as Olymel, Atelka and Scotiabank continue to create new employment opportunities.
Residential
A number of local developers were very busy this year, as new homes were built across the city in a number of subdivisions. These include Cartwave Realty, JF Markell and Falcon Homes
Institutional
The City of Cornwall invested over $22 million in capital works in 2017, including $2 million in new buses for Cornwall Transit. Investments were made in new equipment at the Cornwall Community Hospital and St. Lawrence College celebrated its 50th anniversary.
The presentation will be broadcast on YourTV Cornwall Dec 14th at 9:00 p.m., Sunday Dec 17th at 9:30 a.m. and Wednesday Dec 20th at 9:00 p.m.
The above is just a sampling of the dozens of stories referenced in the Year in Review report, which can be downloaded in the Resources section of this website.
There are also over 150 detailed success stories from 2017 in the News section.
Categorised in: Business