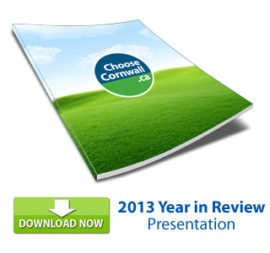 Cornwall Economy Continues to Soar in 2013
December 18, 2013
Cornwall Ontario – Cornwall's economy continues to soar as new investment spurs on development across a variety of sectors.
A recap of the year's development activity was provided by Mark Boileau, Manager of Cornwall Economic Development, at the annual Team Cornwall Year in Review meeting. This year marked the 15th consecutive year that community and business leaders have gathered to review the report in person.
Mr. Boileau outlined over 150 individuals, businesses and organizations that have started or completed significant projects in 2013. These included major investments in the commercial, residential, institutional, and industrial sectors. It also included over 50 entrepreneurial start-ups.
"The combination of activity across all sectors results in balanced economic growth that benefits both small, medium and large enterprises," said Mr. Boileau. "It is important to note that investment and development activity creates both short and long term employment opportunities for Cornwall residents."
Well over 500 jobs were created in Cornwall in 2013, many with large companies such as Eleven Points Logistics, Atelka and Olymel hiring large groups of people. Employment growth was also evident in the retail and hospitality sectors with new businesses such as Scores, Urban Planet, FreshCo and NoFrills opening (amongst others).
During his presentation, Mr. Boileau announced two new developments that will have a positive impact on Cornwall in 2014. The Benson Group has acquired a new building, effectively doubling the size of their autoparts and tire distribution centre. Cornwall's largest private sector employer, SCM, also announced the creation of a high velocity distribution centre (HVDC) in its existing 1.4 million sq.ft. facility. Both announcements help to further Cornwall's reputation as a leading hub for logistics and supply chain activity in Canada.
Local contractors were kept busy in 2013 as $33 million of new construction was recorded by the City's Building Permit Office. Upward trends were noted in single family home construction and commercial/retail projects. The Heart of the City and Brownfields community improvement programs helped leverage new $50 million dollars in investment.
It is important to note that many of the largest development projects occurred in the institutional sector and are not reflected in municipal building permit figures. These large projects included ongoing redevelopment work at the Cornwall Community Hospital, the CBSA Port of Entry and the new Seaway International Bridge. The City of Cornwall itself completed $10.2 million in municipal infrastructure development in 2013, in addition to ongoing work on the $57 million upgrade to the City's wastewater treatment facility.
The 2013 Year in Review report, as well as reports from previous years, can be downloaded from the Resources section of this website.
Additional details and context for many of the development projects outlined in the Year in Review report can be found in the various News stories on this website.
To keep abreast of new developments occuring in the City of Cornwall, please request to be added to the Economic Development mailing list by using the Request Info page.