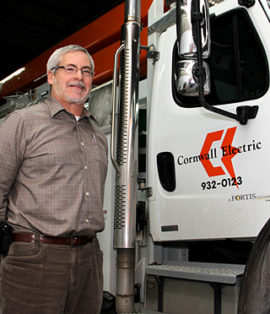 Cornwall Electric Freezes Rates, Plans Investment in 2015
April 29, 2015
Cornwall Ontario – Cornwall Electric customers will continue to enjoy reasonable rates and ongoing stable service.
The power utility recently announced that rates will remain unchanged for the upcoming rate year which runs from July 1, 2015 to June 30, 2016. Michael Pescod, Regional Manager of Cornwall Electric, attributed the rate stability to the two long-term wholesale electricity supply contracts previously negotiated with Hydro Quebec.
"Like all other utilities in Ontario, the wholesale cost of electricity is passed through to customers. The long term contracts with Hydro Quebec provide security of supply and rate stability to December 2019," said Pescod. "Cornwall Electric rates continue to compare favorably to surrounding electrical utilities".
Cornwall electric rates can be as mujch as 5-25% below rates found in other Ontario communities.
Eligible residential and small business customers will continue to receive the Ontario Clean Energy Benefit, saving 10% on electricity costs until the Provincial program ends in 2016. In addition, Cornwall Electric customers are not subject to the debt retirement charge.
The wholesale cost of electricity represents approximately 80% of the customer's total bill. The remaining 20% represents the distribution charges. These distribution charges pay for Cornwall Electric to deliver safe and reliable power from the Cedars Rapids Transmission lines to the Cornwall Electric substations then to the customers' homes and businesses and to provide for system maintenance and capital equipment replacement.
In 2015, Cornwall Electric's capital program will invest approximately $4 million dollars in distribution system expansions and capital replacements.
About Cornwall Electric
Cornwall Electric supplies electricity to 24,300 customers in the City of Cornwall, South Glengarry, South Stormont, and the Ontario portion of the Mohawk Territory of Akwesasne. It is a wholly owned subsidiary of FortisOntario.
Cornwall Electric promotes the wise use of electricity and urges customers to conserve energy and consider using energy efficient appliances, lighting, shower heads, and installing programmable thermostats, weather stripping and pool pump timers. These measures reduce consumption and help customers manage costs.
More info can be found online at www.cornwallelectric.com