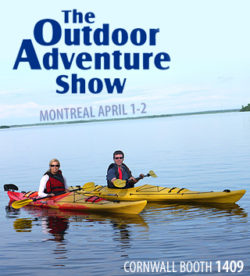 Cornwall Exhibiting at Outdoor Adventure Show
March 28, 2017
Cornwall Ontario – Cornwall is a great place to enjoy nature – be that on land or on water.
That is the message that will be delivered at the Outdoor Adventure Show this weekend at the Palais des congrès in Montreal.
"The show debuted last year and was very well attended," says Linda Wilson, Tourism Co-ordinator with the City of Cornwall. "The show is a must for the passionate outdoor adventurer who is ready to start planning their next adventure and get outside!
The exciting two-day event offers a large selection of over 200 exhibits offering information on a wide range of outdoor activities and travel destinations. Popular show features include a whitewater demo pool with dynamic kayak, paddle and underwater demonstrations, as well as other interactive exhibits.
Cornwall's booth number is 1409.
Major sporting events such as the Cornwall Triathlon and Run to End MS and MS Bike regularly attract hundreds of competitors to the city.
"Cornwall is widely acknowledged to have the best part of the Waterfront Trail, which connects people from the Quebec border to southwestern Ontario," says Ms. Wilson. "We regularly host a number of runners and cyclists throughout the year."
Another big draw is the St. Lawrence River, which is popular with recreational boaters, scuba divers and fishermen from around the world.
"If your passion is being on the water, then the St. Lawrence River offers a wide variety of opportunities," says Ms. Wilson. "We have one of the world's best fish habitats for bass and carp, and the river also is home to a number of excellent diving sites."
Also helping out in the booth will be representatives from the Cornwall Triathlon as well as local accommodation partners. In addition to the 2017 Visitor Guide, copies of Cornwall Living magazine will be available, as will maps and other information.
"People who 'discover' Cornwall are amazed at how green the city is, and are impressed with the quality of our restaurants, merchants, and attractions like the Waterfront Trail," says Ms. Wilson. "Our goal is to get more people to explore the area, especially during the celebration of Canada 150."
Show Hours and Tickets
The Outdoor Adventure Show takes place during the following times:
Saturday, April 1, 2016, 10am – 6pm
Sunday, April 2, 2016, 10am – 5pm
Categorised in: Business