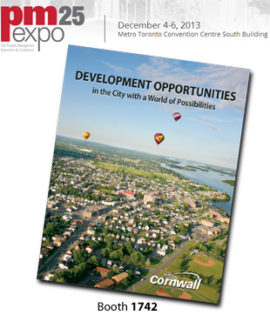 Cornwall Exhibiting at PM Expo Show in Toronto
November 29, 2013
Cornwall Ontario – Cornwall Economic Development will once again be showcasing local development opportunities to attendees at the PM Expo in Toronto.
"The show attracts a diverse group of people including developers, real estate professionals and investors," said Bob Peters, Senior Development Officer. "The Cornwall booth is typically busy, and we meet a lot of people that are interested in learning more about the City, including people who are considering relocating."
PM Expo takes place at the Metro Toronto Convention Centre in Toronto, December 4 to 6, 2013. This year marks the 25th anniversary that Canada's largest annual property management exposition and conference has been held.
The Cornwall booth number is 1742.
Cornwall development opportunities will be exhibited at the show, including available commercial buildings and greenfield development sites in the Cornwall Business Park. Cornwall has a number of advantages when it comes to building and development, not the least of which is the fact that the City does not have development charges.
Development Opportunities Brochure
These investment opportunities are profiled in a brochure entitled Development Opportunities in the City with a World of Possibilities. The brochure has been updated and expanded for the 2013 show.
67 properties are listed in the 20 page brochure. Other business opportunites can also be sourced on this website on the Business Opportunities page.
The brochure will be available at the Cornwall booth during the trade show. An electronic version can be downloaded on the Resources page of this website.
Each year, a number of Cornwall contractors and business professionals attend the show to learn about new products and best practices in their industry. Cornwall Economic Development provides free passes to the show for people interested in attending.
Cornwall Construction Activity
2013 very busy construction year in Cornwall, following record years in 2011 and 2013.
A number of major development projects are currently underway or have recently concluded, such as the new 1.4 million sq.ft. distribution centre for Target,  new residential projects, commercial plazas and downtown revitalization projects.  Public sector projects include the ongoing construction of a new international bridge (due to open later this month), the redevelopment of the Cornwall Community Hospital and a $55 million wastewater treatment plant upgrade.
Check out the News archives for more informaton on these and other development projects.
About PM Expo
With over 1050 exhibits and a robust series of seminars that feature over 450 speakers, PM Expo typically attracts about 25,000 attendees.  The Show is held concurrently with Construct Canada, HomeBuilder & Renovator Expo, Concrete Canada, DesignTrends and the National GreenBuilding Conference.