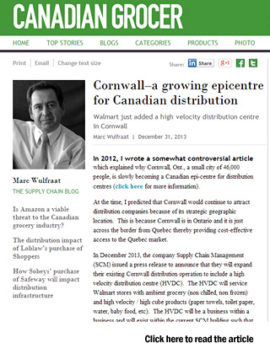 Cornwall Featured on CanadianGrocer.com
January 16, 2014
Cornwall Ontario – Cornwall continues to solidify its position as a growing hub for supply chain activities, and that growth has been acknowledged in a recent article on CanadianGrocer.com.
In article entitled Cornwall–a growing epicentre for Canadian distribution, industry expert Marc Wulfraat examines the factors driving investment in Cornwall by companies such as Walmart, Target, Shoppers Drug Mart and Benson.
"There is no doubt in my mind that the city of Cornwall is poised for continued growth in the supply chain sector based on the many conversations that we have had with companies in the United States and Canada who are seeking to add new distribution capacity to service Eastern Ontario and Eastern Canada," says Marc Wulfraat.
"Cornwall offers many competitive advantages that are very appealing to private industry such as low cost of service land, low operating expenses, business-friendly environment, and quality labour resources," added Mr. Wulfraat.  "Most importantly, Cornwall's future growth will happen because the leaders of this community 'get it'. They understand the competitive environment that companies are facing more than ever and they are willing to work with companies to establish business operations that are profitable."
The article has caught the attention of many business people – in and outside of Cornwall.
"Having spent much of my business life working in new business & brand development in the consumer packaged goods, grocery & supply chain management industries, I found this article most interesting," said Rosemary Helmer, President of Helmer Management Group International.
Canadian Grocer is the voice of the supermarket and food industry in Canada since 1886. Published 10 times a year, the magazine offers insights on what's happening in Canada's grocery sector. You can learn more online at CanadianGrocer.com
Mr. Wulfraat is a recognized leader in Canada's supply chain and logistics sector, with over 27 years of experience in the field. He has been a speaker at over 60 events and has authored over 60 industry publications and white papers. He is President of MWPVL International, a global supply chain and logistics consulting firm based in Montreal.
More info:
Mississauga based HMGI: Helmer Management Group International works with clients to research, design, develop and launch new branded products, services, programs and events which generate new revenues in various sectors of the Canadian economy and international markets chosen by its clients.
Related Articles