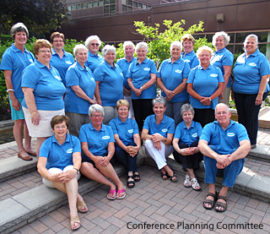 Cornwall Hosting Ontario Horticultural Association Conference
July 14, 2014
Cornwall Ontario – Over 300 delegates from across Ontario will be visiting Cornwall this week to participate in the Ontario Horticultural Association's Annual Conference.
The NAV CENTRE will serve as the host site for the conference, which runs from Friday, July 18th to Sunday, July 20th.  The event has been organized by OHA District One consisting of seven local horticultural societies – Cornwall, Williamstown, Martintown, Maxville, Vankleek Hill, Alfred and Russell.
"We are pleased to host this provincial event," said Cornwall Mayor Bob Kilger. "It will give us an opportunity to showcase our beautiful community to gardening enthusiasts from across Ontario."
Apart from participating in lectures, workshops and competitions, the attendees will also be touring in and around Cornwall during their visit.
"Residents might see our delegates visiting our colourful gardens and unique boutiques or cruising on the St. Lawrence River," said Host District Director Pat Stachon. "I would encourage our residents to extend a warm welcome to our visitors as they discover what our beautiful corner of the province has to offer."
In honour of the conference, the City of Cornwall has planted a flower bed containing the floral emblems of each of the seven local horticultural societies that make up District One, the host of the event.
This is the first time that Cornwall plays host to the OHA Annual Conference. Each month throughout the province, gardeners from the 282 OHA Societies meet.  They listen to interesting speakers, hold plant sales, participate in day trips, and volunteer their time to work on projects to beautify their communities.
About the NAV CENTRE
Located on the scenic shores of the St. Lawrence River in Cornwall, the NAV CENTRE is a full service conference centre offering access to 550 guest rooms and 70 dedicated state-of-the-art meeting rooms. The Centre, which is owned and operated by NAV CANADA, can accommodate small groups of five to large groups of up 500. The NAV CENTRE is also an ideal location for organizations with longer-term training or workgroup requirements, with ample classroom space and affordable all inclusive plans to make your offsite initiatives a success. The NAV CENTRE is an accredited member of the International Association of Conference Centres (IACC), provided for adhering to globally recognized standards in hospitality service.
Learn more about the Centre at www.navcentre.ca
The NAV CENTRE is featured in the 2014 Cornwall Living magazine. Order your complimentary copy via ourRequest Info page.