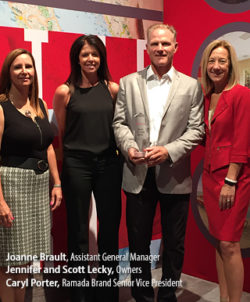 Cornwall Hotel Recognized as One of Ramada's Best
November 2, 2016
Cornwall, Ontario – One of Cornwall's most popular hotels has just been formally recognized.
The Ramada Hotel & Conference Centre in Cornwall has been awarded a "Best of the Best 2015-16 Award" at the Wyndham Hotel Group Global Conference which took place in Las Vegas last month. The award, presented by Ramada Worldwide, ranks it among the top properties of the brand's 900-hotel portfolio.
"It is with great pleasure that I congratulate Ramada Cornwall and its staff on this recognition of achievement," said Caryl Porter, Ramada Brand Senior Vice President. "Their commitment to providing guests with exceptional service and extraordinary accommodations speaks to their dedication to the quality of their hotel and that of the greater Ramada brand."
The hotel became eligible for the award after distinguishing itself as a leader within the brand, setting itself apart through outstanding performance in areas such as customer service, revenue generation and overall quality.
"This is a great honour for our hotel and a testament to the hard work and determination of our wonderful staff," said Scott Lecky, the hotel's Owner and General Manager.
Mr. Lecky and has wife Jennifer have consistently improved the property over the past decade. A program of continual investment has resulted in a beautifully landscaped property and a modern boutique feel to the lobby and guest rooms.
Situated in a picturesque wooded setting, Ramada Cornwall is a 112-room hotel offering a range of accommodations from standard rooms to luxury suites. With a spacious indoor pool, and an impressive array of features in every room, it boasts a great combination of value and comfort to travellers looking to spend some time in Cornwall.
Ramada Cornwall is also a popular choice for business meetings and family gatherings. The site regularly hosts a number of special events for local community groups.
The Ramada is also home to a charging station for Tesla cars.
About the Ramada Cornwall
The Ramada Cornwall is centrally located at 805 Brookdale Avenue, just minutes from Highway 401 and the International bridge. Adjacent to shopping and restaurants, the hotel offers ample free parking and is just minutes from Cornwall's downtown and waterfront.
More info can be found online:
Categorised in: Business