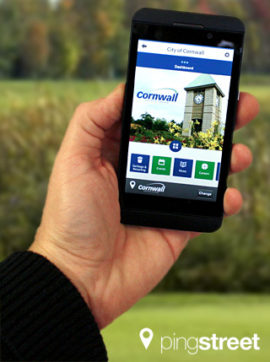 Cornwall Joins Popular Pingstreet App
December 18, 2014
Cornwall Ontario – People have a new way to connect with the City of Cornwall following the launch of a new smartphone app.
Pingstreet gives users real-time access to community and business news, employment opportunities, upcoming events, garbage and recycling information, social media feeds and more. The app is free to use and is available on a number of popular platforms.
"A growing number of people are using their phones to access information," said Bob Peters, Senior Development Officer. "This easy-to-use app will allow residents and visitors to connect with the City of Cornwall in an exciting new way."
Cornwall is one of 15 municipalities currently featured on the award-winning app, which was developed by eSolutionsGroup. Pingstreet pulls information from open source data and uses GPS to serve appropriate location-based information in real-time. PingSreet is expandable, allowing for more information to be added, including information from other levels of government and other community organizations.
Some of the highlights of the free app include:
Review upcoming City events and receive reminders about events of interest.
Scan through the latest employment opportunities with Cornwall and area employers.
View the garbage and recyling schedule based on location. Users can also receive reminders when there are changes to the regular collection schedule
Report a problem directly to the City and attach a photo if need be.
Keep up to date on the latest business and community news and receive instant updates from the City of Cornwall's official Twitter feed.
In the near future, Pingstreet users will also be able to use the app to locate nearby Cornwall Transit bus stops and bus times based on real-time locations. Additional features are expected to be added to the app in the months ahead.
"In addition to providing information to local residents, the app will also provide exposure to Cornwall for Pingstreet users in other communities across Ontario and other parts of Canada," said Mr. Peters.
Cornwall's participation in Pingstreet was made possible with the assistance of the Business Development Program of the Eastern Ontario Development Program.
Pingstreet can be downloaded at the following links, or by visiting your App Store and searching for "Pingstreet":