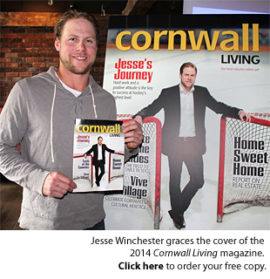 Cornwall Living Magazine Celebrates Local Success
May 29, 2014
Cornwall Ontario – The 2014 edition of Cornwall Living magazine has just been published and already it has people talking around the world.
The magazine celebrates life in Cornwall, and the accomplishments of those people who call the city and area home. One of those residents is the NHL's Jesse Winchester, who graces the cover the magazine. A Twitter campaign to promote the magazine by Team Cornwall following the launch of the magazine is gaining traction in Florida and other states, spurred on by the Panthers organization itself.
"I am overwhelmed by how well the magazine has turned out," said Jesse. "Hats off to the team who put it together."
The magazine is published by the Seaway News and features the work of over a dozen local photographers. In addition to Jesse, the magazine also profiles local success stories Taylor Bingley, Dr. Melissa Yuan-Innes, Emma Saaltink, Rory MacLennan, Jimmy Malyon, Reno Viola and Jason McNamara.
Cornwall Living has emerged as the premiere publication in Eastern Ontario–profiling Cornwall and the region," said Rick Shaver, Publisher. "The magazine is a testament to what a good partnership can produce and we are thankful for all who continue to support the publication."
The magazine also features stories on real estate in Cornwall, the Le Village business district, local restaurants, agriculture in SDG, Olymel's big expansion and other business and community news. New this year is a three-page section feature photographs gathered from the social media activities of local residents.
A short video promoting the magazine can be viewed on the ChooseCornwall YouTube channel.
In all the magazine spans over 100 pages and features well over 100 photographs. It is distributed throughout Cornwall and SDG as well as to an extensive list of key contacts around the world.
"Every person who contacts our office looking for information on Cornwall receives a copy, as does every Canadian embassy and consulate," says Mark Boileau, Manager of Cornwall Economic Development. "We also mail it out to a growing database of thousands in North America and beyond."
People looking for a copy of the magazine (and to join Cornwall Economic Development's mailing list) can request a copy via the Contact Us page on this website.
Categorised in: Business