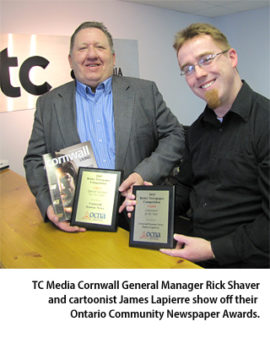 Cornwall Living Magazine Wins Award
May 3, 2016
Cornwall Ontario – Seaway News/TC Media Cornwall was recognized recently with two provincial-level awards by the Ontario Community Newspaper Association.
Cornwall Living was judged to be the best special publication with a circulation over 10,000, and regular Seaway News contributor James Lapierre took home 3rd place as Cartoonist of the Year.
"We are very pleased to have Cornwall Living and James Lapierre recognized in this manner,"said Rick Shaver, General Manager for TC Media. "The awards demonstrate our continuing commitment to excellence."
The 2015 Cornwall Living magazine featured blues icon Paul Deslauriers on the cover and included dozens of stories celebrating life in Cornwall.  As in past issues, striking and powerful images by local photographers helped set the magazine apart from similar publications.  At 108 pages, it was the largest issue ever produced in any format by the Seaway News.
"We have local people doing some extraordinary things in Cornwall – and abroad," says Mr. Shaver. "We try and include a complete picture of what it is like to live and work in Cornwall and the Counties."
The magazine is designed and edited by Colleen Parette, and many of the stories were written by Seaway News editor Todd Lihou, who is also a past OCNA award winner.
"We believe that Cornwall Living is a publication which deserves its place amongst the best magazines in Canada,"says Mr. Shaver. "It is a true collaboration of advertisers, staff and the community".
Over 40,000 copies of Cornwall Living are distributed to local residents and abroad. Visitors to local hotels find a copy in their hotel rooms, and the City's economic development office includes it in information packages sent to people looking to invest or move to Cornwall.  The magazine is also featured prominently at trade shows outside of the City, and copies are sent to each Canadian embassy and consulate around the world.
"One of the best things about the magazine is the connection it has with local residents," says Mr. Shaver. "People take it with them when they travel, and send us back photos of them handing the magazine to people they meet around the world. I can't think of a more well-travelled magazine."
The 2016 edition is expected to hit the newsstands on May 25.
Get your copy!
A copy of the Cornwall Living can be requested by filling out the request form on this website.
The magazine is also available at a number of locations throughout Cornwall, including the Benson Centre, Cornwall Civic Complex, City Hall and at the TC Media offices at 601 Campbell Drive.
Categorised in: Business