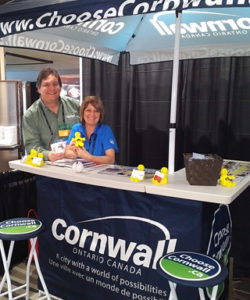 Cornwall Makes Pitch for Sporting Events
March 20, 2017
Cornwall Ontario – Cornwall is being pitched as the site for future National and Provincial sporting events at an important gathering in Ottawa.
Cornwall Economic Development has secured a booth at the Sport Events Congress, an event that attracts rights holders to dozens of sporting events held throughout the year.  The Sport Event Congress is Canada's largest annual gathering of sport and tourism professionals, and takes place March 20-22. The Congress offers events rights holders the opportunity to meet one-on-one with municipal representatives interested in hosting events in their communities.
"Cornwall has a long history of successfully hosting major sporting events across a number of sports," says Lorne Taillon, Leisure Arts Coordinator with the City of Cornwall. "These events can bring in hundreds of athletes, coaches and officials, and attract thousands of spectators. The economic impact of such activity is significant."
Joining Mr. Taillon at the show is Linda Wilson, Tourism Co-ordinator with the City. Officials from the NAV CENTRE are also expected to attend.
The sport tourism industry generates over $6 billion of economic activity in Canada. Cornwall host a number of major sporting events each year, including those that attract national and event international attention.
Each September, the Cornwall Curling Centre welcomes 140 of the world's top curlers for the Shorty Jenkings Classic Bonspiel.  In December, Cornwall was selected as the training camp for the Danish and Slovakan teams competing in the the World Junior Championship, and most earlier this year the Cornwall Civic Complex was the venue for the CJHL Prospects Game.
Cornwall continues to be recognized as community that can successfully host sporting events, including those that attract hundreds of athletes, such as the Cornwall Triathlon and MS Run and Cycle events.
"We are fortunate to have many world-class facilities in our community, and it is always exciting to welcome exceptional athletes from across the country to experience them," says Mr. Taillon. "Many sporting events have a close connection to local sport groups, and can also serve as fundraisers for them."
Local sport venues and related amenities are highlighted in a colourful 12-page brochure created for this event. The Civic Complex and the versatile Benson Centre are featured, along with the Curling Centre, Aquatic Centre the Waterfront Trail and the NAV CENTRE.
Another key element in Cornwall's pitch is the private sector resources in the community such as hotels and restaurants, all of which are important in meeting the needs of event organizers.
This is the third consecutive year that Cornwall has exhibited as the Sport Event Congress.
Get the Brochure
A copy of the new Cornwall Sports Venures brochure can be downloaded from the Resources section of this website.
Categorised in: Business