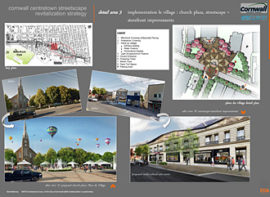 Cornwall Recognized For Streetscape Strategy
July 24, 2014
Cornwall Ontario – Cornwall has been recognized on an international stage for a recently-completed strategy to revitalize the streetscape in the City's traditional commercial areas.
The Centretown Streetscape Revitalization Strategy recently received an honourable mention award at the 51st Conference on Successful Designs for Making Cities Healthy for All in Portland, Oregon.
Attendees at the conference included Mayors, professional planners, architects, engineers, urban designers and community activists from around the world. There were approximately 30 design submissions made from cities all over the world, competing in four different categories. Cornwall's entry was recognized in the Active Mobility and Complete Streets category.
"It's definitely a high honour for Cornwall," said Ken Bedford, Planning Division Supervisor. "The streetscape strategy attracted a lot of attention at this conference and helped to put us on the map."
Patrick Li, Principal of EDA Collaborative, the author of the streetscape strategy, accepted the award at the conference. He presented it to representatives from the City and the Heart of the City / Centretown organization at Monday's City Council meeting.
"This was made possible because we had a variety of stakeholders who worked together, and we also had great participation from City staff," said Mr. Li.
Of all the submissions, Cornwall was the only design that has yet to be fully built and implemented.
"For Cornwall to be recognized in such an elite group is very special," said Councillor Denis Carr, coordinator of Heart of the City. "It speaks to the quality of the streetscape strategy that we have completed."
The streetscape strategy arose out of Centretown Cornwall, a three-year Heart of the City revitalization project that focused on four key areas – economic development, organizational development, marketing and promotions and beautification. It was completed in 2012 with input from representatives of Heart of the City, the Downtown and Le Village Business Improvement Areas, the City, local business owners and other key stakeholders.
Included in the strategy is a long-term vision for the development and enhancement of the public realm in Cornwall's Downtown, Le Village and Water Street areas. This includes improvements to roadways, sidewalks, bike lanes, intersections, signage and much more.
At Monday's Council meeting, City Council instructed Administration to prepare a report outlining options to fund and implement the Centretown Streetscape Revitalization Strategy in the coming years.
The strategy can be viewed in its entirety on the Centretown Cornwall section of the Heart of the City website: