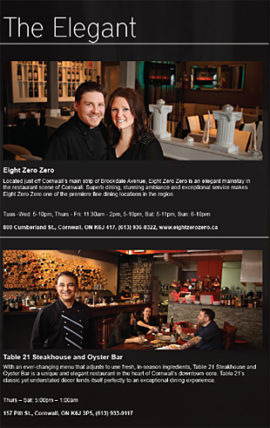 Cornwall Restaurants Featured In New Tourism Publication
June 27, 2014
Cornwall Ontario – Not only does Cornwall and the Counties have great attractions, accommodations, shopping and, of course scenery, but the outstanding dining opportunities throughout the region are out of this world!
From classic favourites to unique cuisine that will soon become your new favourites, Cornwall and the Counties have them all.
To showcase these dining experiences the region offers, Cornwall and the Counties Tourism has published a new guide to eating like a local in our region.
The new guide features 12 looks into some of our region's great dining establishments that will satisfy even the most particular palates. With images focusing on the people who make it their priority to ensure your dining experience is top-notch, the guide will give you a peak into each restaurant and the descriptive will let you know what to expect.
Featured Cornwall restaurants include:
Schnitzels
Truffles
Table 21
Eight Zero Zero
Thum's Kitchen
Moustache Joe's
Ye Old English Fish & Chips
Of course, the region boasts many more than 12 locations to get your fill, and the back of the guide provides a list of other local kitchens that are ready to serve you a deliciously varied assortment of foods and drinks that are guaranteed to impress.
The Eat Like a Local Guide is featured in the summer edition of the LCBO Food and Drink magazine that is distributed throughout the Ottawa region, and also available at the Cornwall and the Counties Tourism Visitor Information Centre, as well as the satellite kiosks scattered throughout the entire Cornwall and the Counties region.
Related Stories on ChooseCornwall