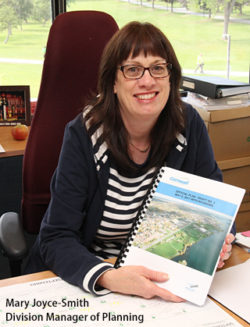 Cornwall Seeking Public Input on New Official Plan
August 31, 2017
Cornwall Ontario – Members of the public will have a chance to provide input on the latest draft Official Plan that will help direct development and growth in Cornwall for the next 20 years … and beyond.
The City's Planning Division is holding an Open House / Drop-In Session to introduce its latest draft proposal for a new Official Plan known as Complete Cornwall au complet. The event will be held on Thursday, September 7th; the first session will take place from 1 pm to 5 pm and the second session will run from 6 pm to 8 pm. The sessions will be held in Salon B of the Cornwall Civic Complex and it is free and open to all.
"The Official Plan is a key document for the City. It provides a roadmap for Cornwall to become a more liveable and sustainable community as it grows," said Mary Joyce-Smith, Division Manager, Planning Services. "Public input has been an important part of this exercise and the Open House will give residents and property owners a chance to learn more about the Official Plan and share their priorities with us."
The new Complete Cornwall au complet document is intended to replace the existing 2002 Official Plan as well as introduce a brand new Urban Settlement Area Boundary for the City.
At the Open House, written submissions and comments will be accepted by City staff leading to final recommendations to the Planning Advisory Committee (PAC). The opportunity to make a formal oral/written submission will be provided at the subsequent Planning Advisory Committee (PAC) Meeting on Monday, October 16th.
About the Official Plan
The main purpose of the Official Plan is to provide a general, comprehensive, framework for the guidance of future land use and physical development within the corporate limits of the City of Cornwall. The Official Plan will direct future urban development and growth for the City for the next 20 year planning horizon.  As such, it is meant to reflect Cornwall's priorities, including:
Priorities already set out in existing documents like The Pedestrian and Bicycling Master Plan, the Waterfront Plan, the Parks and Recreation Master Plan, Social Housing 10 Year Plan and both City Council and the Economic Development  Strategic Plans; and
New priorities based on citizen input.
For additional information on this initiative, including copies of the draft Official Plan and related schedules, please visit:
Categorised in: Business