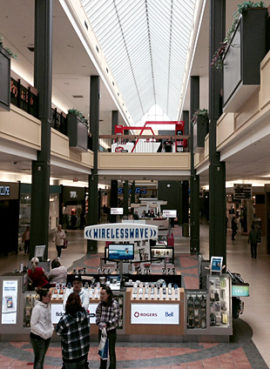 Cornwall Square Replaces Pedestrian Bridges
October 6, 2014
Cornwall, Ontario – Patrons of Cornwall Square will now find it is much easier to get in and out of the mall. The two pedestrian bridges that connect the upper floors of the parking garage with the second floor of the mall have now been re-opened after an extensive rebuild.
The project is part of an ongoing maintenance and repair program initiated by the mall.
"One of our top priorities is the safety and well-being of our patrons, tenants and the broader community we serve," says Karen Burns, Property Manager of Cornwall Square. "Being responsible for our facility and to the people we do business with is a key principle for both companies and it underlies everything we're doing at Cornwall Square."
The replacement of the concrete pedestrian bridges which connect the parking garage to the shopping centre began earlier this year and necessitated a temporary disruption of pedestrian and vehicle traffic.  The work was complex and has just wrapped up as of September 30, 2014.
Pedestrians are now welcome to use the bridges to access the top floor of the mall. The roadway between the parking garage and the shopping centre has also been re-opened to two-way traffic.
The pedestrian bridge replacement is part of an ongoing maintenance and repair program relating to the multi-level parking garage. Additional work on the garage structure itself will commence the second week of October 2014 and is expected to have minimal impact on shoppers. A reputable national engineering firm has been retained for design services and review of construction activities.
"Our entire team is committed to the success of these projects," says Ms. Burns.
35th Anniversary
To celebrate the completion of the pedestrian bridge replacement project and the mall's 35th Anniversary, Cornwall Square is giving away a dream kitchen valued at $8,500, which includes Sears Kenmore Elite fridge, stove, dishwasher and microwave and a $2,000 Emard Bros Lumber gift certificate.
More information can be found at www.cornwallsquare.com
About Cornwall Square
Located in the heart of downtown Cornwall, next to beautiful Lamoureux Park and Cornwall's scenic waterfront, Cornwall Square is recognized as Cornwall's premier shopping complex. With over 55 stores and services, including a food court, Cornwall Square is home to some of Canada's best-known retailers including Sears, Shoppers Drug Mart, Tip Top Tailors, People's Jewellers , Coles and many more. Built in 1979, Cornwall Square continues to be a leader in the community.