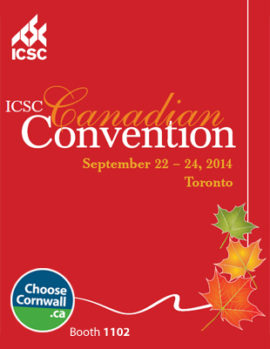 Cornwall to Attend Major Commercial Real Estate Conference
September 19, 2014
Cornwall Ontario – Cornwall Economic Development will be exhibiting at Canada's largest commercial retail real estate event next week.
The annual Canadian Convention of the International Council of Shopping Centers (ICSC) is being held September 22-24 at the Metro Toronto Convention Centre. The conference attracts North America's largest retailers and commercial developers. The Cornwall Booth is number 1102.
"Cornwall is Eastern Ontario's fifth largest retail market, yet many feel that there are gaps in our retail landscape," said Bob Peters, Senior Development Officer. "There are a number of commercial retail development projects underway in the city right now, and we want to help retailers take a closer look at Cornwall by offering additional information on the local market."
Cornwall Economic Development has produced a brochure entitled Commercial Retail in Cornwall, which provides demographic information on Cornwall's retail trade area, which includes Stormont Dundas and Glengarry.  The ChooseCornwall.ca website has also been expanded to include information on commercial real estate opportunities, including available retail properties in the Downtown and Le Village districts. Other information, such as downloadable maps, is available in the Resources section.
Cornwall will be joined at the ICSC show by Canada's largest commercial developers, many of which have active development projects underway in Cornwall.  These include CREIT, RioCan, Iberville, Partners REIT, Harden, Cobalt and Choice Properties.
"The growth of our commercial sector is a key component of our Economic Development Strategic Plan," said Mark Boileau, Manager of Economic Development.  "A vibrant retail and restaurant sector will help attract new residents to Cornwall and at the same time maximize the positive impact of consumer spending in the local economy."
Cornwall has emerged as a major logistics hub in Canada for retailers such as Target, Walmart and Shopper Drug Mart. New investments by commercial developers have helped to lure new retailers such as Urban Planet, FreshCo and Boston Pizza, with new stores planned for Future Shop, Menchies and others.
The Toronto event will be the fourth ICSC event attended by Department staff.
About the ICSC
Founded in 1957, the International Council of Shopping Centers (ICSC)  is the premier global trade association of the shopping center industry. Its more than 63,000 members in over 100 countries include shopping center owners, developers, managers, marketing specialists, investors, retailers and brokers, as well as academics and public officials.