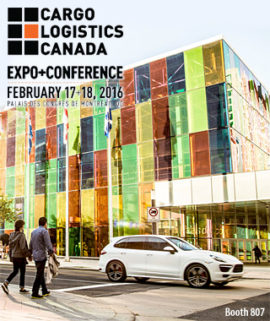 Cornwall to Exhibit at Cargo Logistics 2016
February 11, 2016
Cornwall Ontario – City officials are hoping that more logistics companies will 'Choose Cornwall' this year.
Cornwall Economic Development will be exhibiting at a major North American trade show in Montreal. The Cargo Logistics Canada Expo runs from February 17-18 at the Palais des congrès de Montréal.
The Cornwall booth number is 807.
"This is a major show that attracts companies from across North America and beyond," says Bob Peters, Senior Development Officer. "We will be promoting development opportunities in the Cornwall Business Park, as well as showcasing local companies."
The Department will also be unveiling a new logistics brochure at the show.
"Cornwall presents a solid business case for new supply chain operations," says Mr. Peters. "In addition to our strategic location on Highway 401, Cornwall has ample serviced land available for development, an experienced workforce, and affordable electrical rates."
Cargo Logistics is the largest annual conference that brings together stakeholders involved in the flow of goods through Canadian supply chains. These include commodities from the agriculture, food & beverage sectors, consumer products in retail and electronics, equipment related to manufacturing and industry, as well as pharmaceutical and medical products. In addition to the trade show floor with over 150 of exhibitors, the conference gives attendees the opportunity to share best practices, access resources for continued professional development and engage with professionals in the industry.
Cornwall has developed into one of Canada's major hubs of supply chain activities, with large distribution centres operated by Walmart, Shoppers Drug Mart and Benson. In 2015, Walmart acquired a second 1.4 million sq.ft. distribution centre and is currently renovating and expanding the building. The sector is supported by numerous other companies, including transportation companies and other 3PL firms.
Cornwall will be joined at the show by the Ontario East Economic Development Commission, which has the booth immediately adjacent to the Cornwall booth.
"Together we hope to convince people to take a closer look at investing in Eastern Ontario," says Mr. Peters. "We have a number of programs, such as the Eastern Ontario Development Fund, that can help defray some of the costs of establishing a new operation."
About the Cornwall Business Park
The Cornwall Business Park is approximately 1500 acres in size and is home to Cornwall's largest private sector employers. Land is available for $30,000 an acre. Available services in the Business Park include municipal water, sanitary sewers, electrical power, natural gas, and access to high speed telecommunication services. Access to Highway 401 is available via Interchange 796 (Boundary Road) and Interchange 792 (McConnell Avenue).
You can download a brochure and map of the Cornwall Business Park on the Resources section of this website.
Categorised in: Business