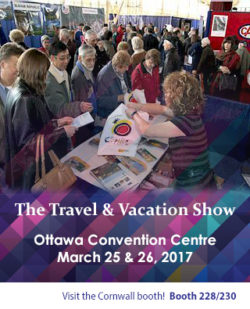 Cornwall to Exhibit at Ottawa Travel and Vacation Show
March 24, 2017
Cornwall Ontario – Cornwall's new Visitor Guidewill be unveiled to potential tourists at the Ottawa Travel and Vacation show this weekend.
Cornwall will have a booth at the popular event at the Ottawa Convention Centre in Downtown Ottawa.
"This has historically been a very good show for us," says Linda Wilson, Tourism Co-ordinator with the City of Cornwall. "The show offers a one-stop shop for people interesting in travelling – be it within Ontario or around the world."
The Ottawa Travel and Vacation Show is focused exclusively on destination and travel, and is attended by the travel agents and tour operators, in addition to the general public. The show features over 200 exhibitors. Over 50 Canadian and USA destinations will promote their regions alongside tourist boards from over 50 more countries from around the world.
The Cornwall booth number is 228/230.
Cornwall offers an attractive option for people looking to get away for an overnight trip or even just a few hours.
"People who 'discover' Cornwall are amazed at how green the city is, and are impressed with the quality of our restaurants, merchants, and attractions like the Waterfront Trail," says Ms. Wilson. "Our goal is to get more people to explore the area, especially during the celebration of Canada 150."
Also helping out in the booth will be representatives from the Cornwall Triathlon as well as local accommodation partners. In addition to the Visitor Guide, copies of Cornwall Living magazine will be available, as will maps and other information.
The Travel & Vacation Show hours are from 10am to 5pm Saturday March 25 and Sunday March 26 at the Ottawa Convention Centre at 55 Colonel By Drive. Admission is $10.
In addition to exhibits, there will be free seminars and cooking demonstrations with celebrity chefs.
Categorised in: Business