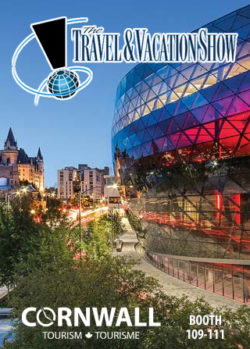 Cornwall Tourism at Ottawa Travel & Vacation Show
March 14, 2018
Cornwall Ontario –  Cornwall Tourism will have a booth at at the Ottawa Travel and Vacation show this weekend.
Cornwall's new and expanded 2018 Visitor Guide will be available at the popular event, which is held at the Shaw Centre in Downtown Ottawa.
"The show is one of three major tourism shows that we are exhibiting at this year," says Kevin Lajoie, Tourism Co-ordinator. "This particular show offers a one-stop shop for people interesting in travelling – be it within Ontario or around the world. And although it is based in Ottawa, the show attracts a lot of attendees from much farther away as well."
The Ottawa Travel and Vacation Show is focused exclusively on destination and travel, and is attended by the travel agents and tour operators, in addition to the general public. The show features over 200 exhibitors. Over 50 Canadian and USA destinations will promote their regions alongside tourist boards from over 50 more countries from around the world.
Also exhibiting at the show is Cornwall's own Jolly Tours. The family-operated company has been specializing in directed tours of Canada, the United States and overseas destinations for over 40 years.
The Cornwall Tourism booth number is 109/111, while Jolly Tours is at booth 529.
Cornwall offers an attractive option for people looking to get away for an overnight trip or even just a few hours.
"People who 'discover' Cornwall are amazed at how green the city is, and are impressed with the quality of our restaurants, shops, and attractions like the Waterfront Trail," says Mr. Lajoie. "Our goal is to get more people to explore the area, be it for a day trip or a longer stay."
In addition to the Visitor Guide, copies of Cornwall Living and Taste magazines will be available at the Cornwall Tourism booth, along with maps and other information.
Show Dates and Times
The Travel & Vacation Show takes place Saturday March 17 and Sunday March 18 at the Shaw Centre at 55 Colonel By Drive in Ottawa.
The show is open to public from 10am to 5pm each day.  Admission is $10.
A limited number of free passes are available at the Cornwall Tourism office in the Civic Complex – while quantities last.
Categorised in: Business