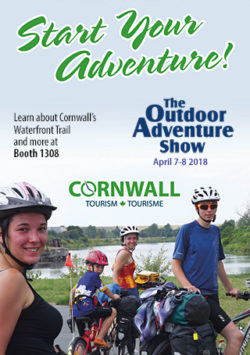 Cornwall Tourism at Outdoor Adventure Show
April 3, 2018
Cornwall Ontario – There is no better place to spend time outdoors is on or along the St. Lawrence River in Cornwall.
Cornwall Tourism will be spreading that message at the Outdoor Adventure Show this coming weekend at the Palais des congrès in Montreal. This will be the third year that the show has been held – and the third year that Cornwall has been an exhibitor.
The show is a must for the passionate outdoor adventurer who is ready to start planning their next adventure, and is well attended by people of all ages who are active in running, cycling and water sports.
"Our goal is to get more visitors to come visit Cornwall and explore all that we have to offer," said Kevin Lajoie, Tourism Coordinator. "Visitors who discover Cornwall are often amazed at how green our city is and they are impressed with our parks, trails and waterfront."
The exciting two-day event offers a large selection of over 200 exhibits offering information on a wide range of outdoor activities and travel destinations. Popular show features include a whitewater demo pool with dynamic kayak, paddle and underwater demonstrations, as well as other interactive exhibits.
Cornwall's booth number is 1308.
Cornwall Tourism will be using the two-day show to promote the Cornwall Civic Complex as an ideal starting point for runners and cyclists given its proximity to the Waterfront Trail and Downtown Cornwall. The show will also provide an opportunity to highlight the many outdoor events hosted in Cornwall such as the Cornwall Triathlon, the Run to End MS, the MS Bike Tour, Waterfest and numerous fishing tournaments.
"These events attract a large number of visitors to Cornwall every year and there's an opportunity to build on that," said Mr. Lajoie. "The St. Lawrence River is also popular with scuba diving enthusiasts. We are looking forward to speaking with people who are planning a visit this year."
Cornwall Tourism will be joined at the show by members of the St. Lawrence Parks Commission and the Cornwall Outdoor Club to help showcase the Cornwall area to adventure seekers.
New Maps and Guides
Attendees will be able to pick up a copy of the 2018 Visitor Guide, hot off the presses, in additional to cycling maps and other useful information.
Show Hours and Tickets
The Outdoor Adventure Show takes place during the following times:
Saturday, April 7, 2016, 10am – 6pm
Sunday, April 8, 2016, 10am – 5pm
Tickets are $12 for adults and $10 for seniors and youth 12 – 17.
Aboout Cornwall Tourism
Cornwall Tourism is reponsible for marketing Cornwall to attract new visitors. The office maintains a visitor information centre year-round at the Civic Complex. CornwallTourism.com is an online resource that provides current tourism news as well as a comprehensive calendar of events.
You can follow Cornwall Tourism online:
Categorised in: Business