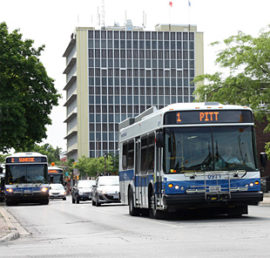 Cornwall Transit Introduces New Service to Business Park
June 26, 2013
Cornwall Ontario – Cornwall Transit has introduced a new weekly bus service to the Eleven Points Logistics Distribution Centre.
The 1.4 million sq.ft. distribution centre is located in the Cornwall Business Park and will service Target stores in Eastern Canada. The DC recently received its first shipment and Eleven Points continues to build its workforce as it ramps up operations.
The new business service is running twice daily, Monday to Friday.
Morning Service
The morning service is on demand, starting at 5:10 am with passengers arriving at Eleven Points Logistics by 5:50 am. Residents looking to take the bus can call and request a pick-up at any bus stop.
Afternoon Service
The afternoon service runs from one pick-up point at the main terminal at Pitt & Second Street, leaving  at 4 pm and arriving at Eleven Points at 4:12 pm. The bus can pick up passengers at bus stops along the route which travels east on Second to McConnell, North on McConnell and then east on Tenth Street.
The bus leaves Eleven Points at 4:40 pm and drop off passengers at any City bus stop.
Residents can use this service on a free introductory basis until Friday, July 12th!
Cornwall Transit current offers regular bus service 6 days a week from 6am to 11:30pm, including a long established route to the Cornwall Business Park (Monday to Friday). This new service to Eleven Points Logistics complements the existing service.
For more information about this new service, please visit the Cornwall Transit section of the City website at http://www.cornwall.ca/en/transit/cornwalltransit.asp or you can call (613) 930-2636.
Eleven Points Logistics continues to hire staff for a variety of positions as it builds its workforce. For more information on working at the Cornwall Distribution Centre, please visit www.EPLjobs.ca.
Eleven Points Logistics is also featured in the new edition of Cornwall Living magazine. You can order your complimentary copy by clicking here.