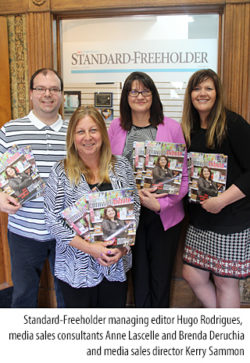 Cornwall Tribute Showcases Emerging Leaders
May 25, 2018
Cornwall Ontario – Cornwall's next generation is emerging to lead the community, and a select few are highlighted in this year's edition of Cornwall Tribute.
The glossy lifestyle magazine features 40 pages of stories and photographs and is published by local newspaper Standard-Freeholder. The 2018 edition also marks the 5th anniversary of Cornwall Tribute, although the publication can trace it roots back to the early 1990s when the paper produced a large tabloid called the Progress Edition.
"It was important for us to help share the stories of some our community's leaders. It shows that beyond our legacy of success in various fields, we are communities where younger generations are finding their own path to success," says Hugo Rodrigues, Managing Editor of the Standard-Freeholder. "We thank all of the individuals who shared their stories, their reasons for choosing to live, play and work in our communities and allowed us to place them in the spotlight."
The magazine features stories on young people who are leading the way in their respective sectors, these include Rachel Roy of Mindful Cookery, Natasha Dion of Fox&Jayne, Hassan Rafiei from Sheep's Head Bistro, Brock McBride of Own the Ice, foodie Lee Theodore and plumbers Adam and Julie Beehler. Local city councillor Carilyne Hebert and North Dundas Mayor Eric Duncan are also profiled.
Kelly Bergeron graces the cover the 2018 Cornwall Tribute. Ms. Bergeron is the Executive Director of the Cornwall Innovation Centre and a strong advocate of digital literacy and updating skill sets to accommodate the impact of new technology. Ms. Bergeron is also overseeing the establishment of the Ontario Emerging Jobs Institute.
"I am truly honoured and humbled to be featured on the cover of Cornwall Tribute," says Ms. Bergeron. "As a woman in tech, I feel it's essential to share the story of how wonderful it is to be embraced and championed by this amazing community. Thank you to everyone who has supported me and to the Standard-Freeholder for letting me share my vision for Eastern Ontario. Let's continue to work together to create more opportunities for innovation and technology!"
Cornwall Tribute will have a total circulation of 9,000. Cornwall Economic Development will be distributing 1000 copies to people looking to move to the City.
"This year's Cornwall Tribute give us an opportunity to showcase a new generation of leaders in our communities," says Kerry Sammon, Media Sales Director.  "It's inspiring to learn how these leaders are thriving in their chosen fields and making important contributions to our city's growth."
About the Standard Freeholder
The Standard-Freeholder is Cornwall's daily newspaper and is one of the oldest newspapers in Canada.  The current newspaper began as two publications, the Freeholder, which was founded by the first premier of Ontario, John Sandfield Macdonald, and the Standard. The two newspapers were amalgamated in 1932 and the first issue was published on April 30 of that year. The Standard-Freeholder became a daily newspaper on April 1, 1941. Today, the paper is a division of POSTMEDIA Network Inc..
Categorised in: Business