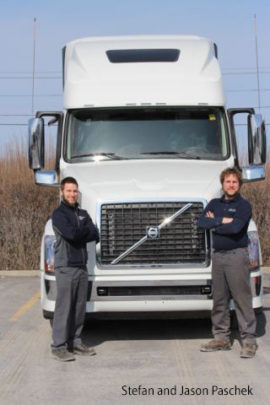 Cornwall Truck Maintenance Continues to Invest in Success
December 11, 2015
Cornwall Ontario – Cornwall 's growth as a hub of supply chain activities includes more than just the massive distribution centres that dominate the Cornwall Business Park.  A number of smaller companies involved in the sector have long make the Seaway City their home, including Cornwall Truck Maintenance.
Cornwall Truck Maintenance is a full service truck repair shop located on McConnell Avenue, directly south of Highway 401 interchange.  The company operates a modern 17,200 sf building that features 13 service bays and one of the largest parts departments in the region.
The company recently celebrated its 25th anniversary and is now in the hands of Jason and Stefan Paschek. In recent years the 3rd-generation entrepreneurs have expanded the company's workforce, increased its building footprint and invested heavily in parts inventory, proprietary tooling and a state of the art dealer management infrastructure.
"We've invested a lot of hard work and money into our company to improve efficiencies, and raise employee and customer satisfaction," says Jason Paschek.
The Paschek story dates back to 1955 when Gunther Paschek emigrated to Canada. Within a year he had secured work and had the resources to bring his wife and two sons over as well. In 1962, Mr. Paschek opened Fairview Garage on Vincent Massey Drive.  He would often work in the shop 24 hours a day, and instilled his work ethic in his sons, and ultimately his grandsons.
In 1989, Gunther's son Wolfgang decided to go into business for himself while his brother continued to operate Fairview (which remains open to this day). Wolfgang opened Cornwall Truck Maintenance in 1989 on Tollgate Road, before moving the business to its present location on McConnell Avenue in 1996.
Wolfgang ensured his two sons received a strong education, starting with St. Lawrence College and then additional training and experience by working for other dealers in the industry. Despite offers from several companies, Stefan and Jason knew their future was back home in Cornwall.
"My brother and I appreciate everything our family has done to build this business, and we believe in Cornwall, " says Jason. "We work hard using the same principles and ethics passed on to us. We constantly seek to honour their legacy, and uphold their long standing reputation."
Today, Cornwall Truck Maintenance represents the Volvo brand in the Cornwall area and offers the highest level of training/diagnostics. The company has 6 certified Master Technicians on staff.
"We believe in investing in our employees' education and training," says Jason. "As a result, our technicians are more efficient, saving our customers money and decreasing their downtime. "
Cornwall's emergence as a distribution hub bodes well for the future of Cornwall Truck Maintenance. The prime location at the Interchange 792 will become even more strategic as the City of Cornwall extends Tollgate Road east to access new development lands in the Cornwall Business Park.
"We look forward to the expansion of the Cornwall Business Park," says Jason. "Our philosophy is to remain dynamic by adapting to changes in the market and being a leader in making things better."
Cornwall Truck Maintenance can be found online at: