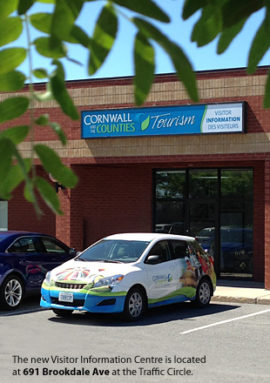 Cornwall Visitor Information Centre Now Open on Brookdale
June 19, 2014
Cornwall Ontario – Visitors to Cornwall and the Counties have a new place to get their tourist information – the new Visitor Information Centre has opened on Cornwall's bustling Brookdale Avenue.
"The closure of the Ontario Travel Centre on Brookdale Avenue has left a void for tourists and the huge traffic numbers that pass through that area each day. Our new home right on the busy strip of Brookdale is an excellent opportunity to service those targets with a great new, welcoming atmosphere with a whole lot of advancements," says Linda Wilson, Executive Director of Cornwall and the Counties Tourism.
Free Wi-Fi and more!
The new Visitor Information Centre has been designed to provide a welcoming atmosphere for visitors. Staff have incorporated some new features including free Wi-Fi service, as well as a complementary charging station for whichever mobile device you own. The new Visitor Centre also has a lounging station with comfortable chairs and a table for visitors to take a load off from their trip or figure out where else to visit in our region.
Of course, the Visitor Centre still offers a wide variety of information for visitors, including free maps, travel guides, information on biking routes, events, accommodations, restaurants and more.
The Visitor Information Centre is located at 691 Brookdale Avenue. You can reach Tourism staff by phone at 613-938-4748 or toll free at 1-800-937-4748.   The hours of operation are:
Regular Hours
Monday-Friday 8:30 am – 4:30 pm
July and August
Monday – Tuesday 8:30 am – 4:30 pm
Wednesday – Friday 8:30 – 6:00
Saturday – Sunday 11:00 – 6:00
Historic Cornwall Jail
The Visitor Information Centre had been previously located in the Historic Cornwall Jail overlooking the St. Lawrence River in Downtown Cornwall.  The Jail provided visitors with an opportunity to see one of the highlight attractions in Cornwall and the Counties, but received lower numbers of visitors than the now-closed Ontario Travel Centre on Brookdale.
But, fear not history aficionados, the Historic Cornwall Jail is not going anywhere.
"We did not want to leave the Historic Cornwall Jail unattended, as it is an important part of our history and our tourism industry in Cornwall and the Counties. The Jail will now be under the watch of historian Ian Bowering and The SDG Historical Society," says Wilson.
In reality, having the Historic Cornwall Jail associated with The Cornwall Community Museum and the SDG Historical Society is of great benefit to the attraction and its visitors. The Jail will now offer guided tours from an expert, giving patrons added details and information that simply could not be provided by the self-guided tour that was previously offered. Fully guided tours are expected to be held on Saturdays and Sundays from July through September, from 11:00am – 4:00pm for $5, and group tours may be available on other dates and times by contacting Ian Bowering at 613-936-0842.
About Cornwall & The Counties Tourism
Cornwall & The Counties Tourism works with tourism businesses to promote Cornwall & the United Counties of Stormont Dundas and Glenggarry as a visitor and convention destination. The office provides visitors with detailed information on attractions, accommodations, shopping, dining, festivals and events.
One of the key publications developed by the Tourism office is the Travel Guide, an 80-page booklet that features information on events, attractions, and accommodations, as well as a map of the area. You can order the guide free of charge via the Request Info page on this site.
For more information on Cornwall and The Counties Tourism, please check them out online: