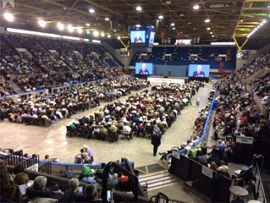 Cornwall Welcomes over 8,000 Jehovah's Witnesses
July 25, 2017
Cornwall Ontario – Thousands of Jehovah's Witnesses will be spending time in Cornwall this month for two Regional Watch Tower Conventions being held in the Ed Lumley Arena at the Cornwall Civic Complex.
Altogether more than 8,000 delegates will be attending the two conventions, pumping in excess of $4.5 million dollars in economic benefits into the community.
The first, three-day convention for English speaking Jehovah's Witnesses took place last weekend, from July 21 to July 23. The second convention for French speaking delegates takes place this coming weekend, July 28 to July 30.
During the first week, a special convention was held simultaneously in Toronto at the Air Canada Centre, with an estimated peak attendance of 18,000 delegates. Over 2,000 international delegates from Britain, Ireland, Scotland, France, and the United States, plus 500 national delegates from all over Canada joined the many regional delegates. Some key parts of the program were video streamed to 15 other locations across Canada on the same weekend, and Cornwall was chosen as one of the locations.
It is expected that total attendance will be over 90,000 for the conventions, and they will be tied together for certain portions of the video streaming program.
This year's convention theme is "Don't Give Up!"
"This theme is especially appropriate, as challenges in life can rob us of peace and even cause some to think about giving up,"  saysLynn Hess, one of the local convention coordinators."
The convention this year will benefit both Witnesses and non-Witnesses because it promises to empower individuals not only to keep enduring, but also to cope with challenges productively.
The public is invited to attend any session or the entire program at the Cornwall Civic Complex. There is no admission fee as the Conventions of Jehovah's Witnesses are supported entirely by voluntary donations.
"We are delighted to host this important event once again", said Janice Robinson, Facilities Rental Co-ordinator. "The organizers work very hard each year to put on such a successful convention. We have been so fortunate to work with Watch Tower since 1998, they have truly become a part of our community. This year is very special as it will be the 20th Annual Watch Tower Conference held in Cornwall."
About Cornwall Civic Complex
Situated in scenic Lamoureux Park on the banks of the St. Lawrence River, the Cornwall Civic Complex is a highly versatile and modern facility.  The heart of the Civic Complex is the Ed Lumley Arena, a modern ice rink that boasts seating for up to 5,800 people for concerts and special events.
The Civic Complex has hosted a number of special events in recent years such as the RBC Cup National Junior A Hockey Championship and concerts by Hedley, Nickelback, Alice Cooper and Blue Rodeo.
Categorised in: Business