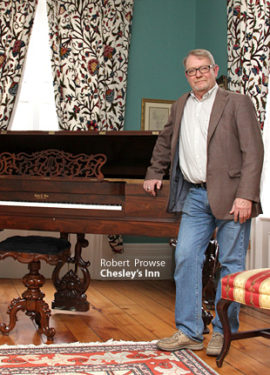 Cornwall's Chesley's Inn Scoring Rave Reviews
November 4, 2014
Cornwall Ontario – As the weather turns a bit cooler, there is a certain allure to spending the night in front of a roaring fire, within the confines of an historic inn that has weathered storms for over a century.
Chesley's Inn offers 5-star luxury accommodations in the heart of Cornwall – just a short walk from waterfront parks, eclectic shops and fine dining restaurants. The Inn was founded in 1814 by Alsaints Chesley, and has been carefully restored by its current owner, Robert Prowse.
"It is the oldest operating Inn in Ontario, yet most of my guests have described it as an upscale boutique hotel," says Mr. Prowse. "One guest from Geneva even characterized the Inn as 'un petit Downton Abbey'."
The three storey brownstone sits prominently on the corner of Augustus and First Street in Downtown Cornwall. It features a beautiful sitting room, formal dining room and options when it comes to accommodations. The Innkeeper's suite is a self-contained two-bedroom apartment which welcomes both children and pets. It has a private entrance, kitchen and living room and is also available for longer-term rental in the low season. Other suites in the main Inn feature large windows, comfortable four poster beds and ensuite baths.
Guests have been quick to recommend the Inn to others, including giving it a 5-star rating on Trip Advisor. One reviewer commented:
"Welcoming and idyllic, this historical charmer should be a #1 spot for the traveler wanting a respite from the everyday, expected accommodation."
Many others rave about the location and the fact they can walk to shopping and dining. They are also delighted in the personal care they get at the Inn and appreciate receiving information about Cornwall's history and attractions.
"People love the experience of staying in a one-of-a-kind accommodation," says Mr. Prowse. "We have hosted people from across Canada and the USA, and while they usually book because Cornwall is a convenient way spot in their travels, they are talking about coming back to further sample the excellent local restaurant scene. Guests are delighted that they can order a bottle of wine with dinner and finish it –  knowing that bed is just a short stroll down the road."
Mr. Prowse has not only lovingly restored the Inn to its former glory; he is also running it much as it would have been two hundred years ago.  Most of the food served in the Inn is sourced from local farms and businesses.  The bread comes from Riley's Bakery, the bacon from Langview Farms, and the flour used for waffles is stone ground at nearby Upper Canada Village. Eggs are local free-range and Mr. Prowse uses as many local cheeses and products as he can find.  All the guest rooms feature Ground Soap, soap made in Cornwall from natural and organic ingredients.
"People are looking for travel experiences outside the predictable, and in that sense, we offer an experience unique in Ontario," says Mr. Prowse. "We deliver the ambience of centuries past within a very modern level of comfort."
You can learn more about Chesley's Inn online:
Robert Prowse has been supported by the City of Cornwall in the restoration of Chesley's Inn. He received help from the Cornwall Business Enterprise Centre as well as financial assistance from the Heart of the City Community Improvement Program.