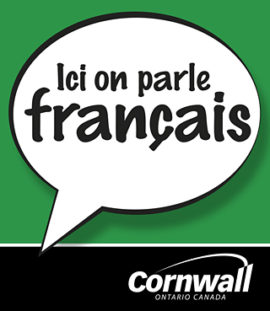 Cornwall's Francophone Capabilities Celebrated
May 20, 2015
Cornwall Ontario – Visitors to Cornwall businesses will soon have a more visible sign of Cornwall's francophone capabilities via stickers that will be displayed at various locations around the City.
The stickers bear the phrase "Ici on parle français"which translates to "French is spoken here" and are available to any business that offers French services to the public.
"The stickers are a small but important sign that people are welcome to converse in French," said Mark Boileau, Manager of Cornwall Economic Development. "Being able to be served in your own language is very welcoming to visitors."
The stickers are expected to be displayed on doors and windows of restaurants, retailers and offices throughout the city. The stickers carry the same design as street banners erected recently to celebrate the 400th anniversary of Francophones in Ontario.
Cornwall is one of Ontario's most bilingual cities. Almost half of the population (43.26%) can converse in both English and French. Francophones represent 25.4% of the City's population, compared to 15.4% for Eastern Ontario and 4.8% for Ontario as a whole.
The first official record of a francophone population in Cornwall dates to 1829, showing that 74 out of 812 Cornwallites were of French origin. Twenty years later, the census recorded that the number had jumped to 967.  Today, Cornwall's francophone community enjoys a strong presence in the Cornwall.
Stickers are available at the offices of Cornwall Economic Development at the Cornwall Civic Complex.  Business owners are also able to download the artwork via the City website.