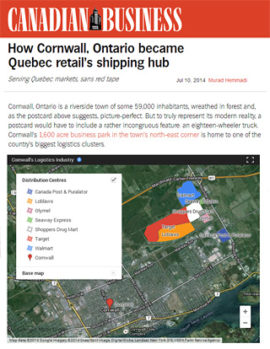 Cornwall's Logistics Sector Profiled in Canadian Business
July 22, 2014
Cornwall Ontario – Cornwall's rise to become one of Canada's key suppy chain hubs has been recognized in a recent article by Canadian Businessmagazine.
The article is entitled "How Cornwall, Ontario became Quebec retail's shipping hub" and was written by Murad Hemmadi.
Mr. Hemmadi recaps the reasons behind the establishment of major distribution centres for Canada's top retailers in Cornwall. He makes the point that Cornwall occupies a strategic location in Ontario near the Quebec and New York State borders.
"Reliable labour and cheap rents have driven more and more businesses to move their logistics operations to Cornwall," writes Mr. Hemmadi. He also points out the relatively low cost of land ($30,000 per acre) and the lack of development charges as further incentives.
The Cornwall Business Park is currently home to four major distribution centres:
Walmart – 1.4 million sq.ft. facility operated by Monarch Logistics
Shoppers Drug Mart – 600,000 sq.ft. facility operated by Matrix Logistics
Target – 1.4 million sq.ft. facility operated by Eleven Points Logistics
The Benson Group – 300,000 sq.ft. facility dedicated to their auto-parts business
The article includes an interactive map that identifies the location of the above distribution centres, as well as facilites for Olymel, Canada Post, Purolator, and Seaway Express.
"Cornwall has emerged as one of three major logistics centres in Canada." says Mark Boileau, Manager of Cornwall Economic Development. "Distibution centres here supply retail locations in Ontario, Quebec and the Maritimes."
Mr. Hemmadi also identifies that future growth is imminent, noting that Loblaw has secured a 120 acre site for a distribution centre that is scheduled to be built in 2015.
"With hundreds of acres of the Business Park still unoccupied, don't be surprised if even more of Canada's retail giants decide that scenic Cornwall is the right waypoint for their wares,," writes Mr. Hemmadi.
The entire Canadian Business article is available online:
For more detailed informaton on Cornwall's logistics sector, please download the Logistics Brochure from our Resources page. Maps of the Cornwall Business Park are also available.
About Canadian Business
Canadian Business is Canada's best selling business magazine. Founded in 1928, it is published 14 times a year and has a circulation of over 85,000. It reaches hundreds of thousands more via its website, tablet and mobile phone platforms.