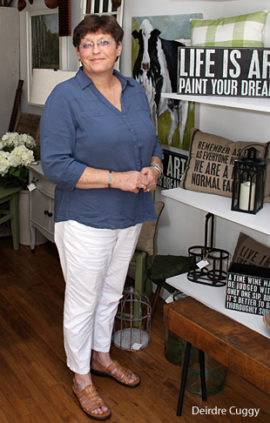 Cottage Blue Moves To The City
August 29, 2014
Cornwall Ontario – The wonderful mix of shops and restaurants in Downtown Cornwall is a little bit larger today, with the addition of Cottage Blue at the corner of Pitt and Second.
"The downtown core has such an appealing feel," says owner Deirdre Cuggy. "It has grown into a warm and inviting place, and we felt it would be a good fit for us."
Shoppers will be impressed by the design and merchandising of the new 1200 sq.ft. store which has a loft-like feel. The store is described as an imaginative expression of decorating inspiration and specializes in unique decorative accessories and furniture. Many of the goods for sale are Canadian-made and one of a kind, produced by local artists.
Cottage Blue also has a focus on repurposing and up-cycling, which means that customers are not only getting a wonderful accessory for their home, but are also helping the environment.
"Cottage Blue's style has always been eclectic and unique: we love to mix the old with the new," says Ms. Cuggy. "Our aim is to make your home a distinct reflection of you!"
The addition of Cottage Blue has been enthusiastically welcomed by Downtown merchants such as Chris Munro from Life's Little Pleasures.
"Cottage Blue is a perfect complement to so many of the other stores in the Downtown, and I am really excited to watch the Downtown continue in its transition & growth," says Ms. Munro.
Cottage Blue was established in 1994, which makes this year their twentieth anniversary. The shop was located in Lancaster originally, and for the last ten years has operated from a renovated barn at the Cuggy home in Green Valley. The barn will remain open until the fall, and serve as storage for our surplus inventory through the winter.
Deirdre will be joined in Cornwall by her daughter Kayla and family friend Nick McCormick.
"I am excited to celebrate our third decade in business with the next generation," says Deirdre. "Both Kayla and Nick are extending our brand online with a Facebook page and website."
About Cottage Blue
The Cottage Blue is located at 11 Second Street West and opens September 2nd with a grand opening planned for Saturday September 6.
Regular hours are Monday-Friday from 10am-5:30pm, and Saturday from 10am-5pm, with extended hours on Sundays for the holiday season. For more information please visit them online: