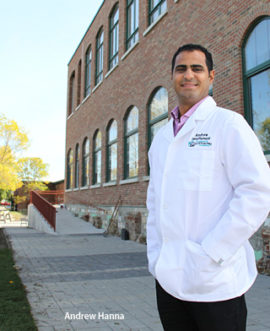 Cotton Mill District to Welcome New Pharmacy
October 2, 2015
Cornwall Ontario – The historic Cotton Mill District is abuzz with construction activity as workers put the finishing touches on the Edison Building, a mixed-use building overlooking the St. Lawrence River.
The large brick mill building will also include commercial space on the ground floor, and a young entrepreneur has announced plans to establish a full service pharmacy and medical clinic onsite.
Pharmacist Andrew Hanna says he is looking forward to helping the east end community revitalize.
"We are looking forward to providing much-needed services to the neighbourhood and in the process create new jobs," says Mr. Hanna. "The revitalization of the Cotton Mill district is important to the entire city, and I'm happy to be a part of that."
Mr. Hanna and his wife Elizabeth have made a significant investment of time and resources in the project.
The project will include a full service pharmacy that will be easily accessible from the street. In addition to the traditional products and services of a modern pharmacy, Mr. Hanna is looking to add value to the consumer's experience by introducing some additional features not currently offered in Cornwall.
"As a family run pharmacy our priority will be to get to know our customers," says Mr. Hanna. "We will simply put patient care first – above all else."
Mr. Hanna will also be opening a medical clinic in the space adjacent to the pharmacy. The medical clinic will be home to 5 doctors and will include examination rooms as well as consultation offices.
"Access to medical professionals is an ongoing concern of many Canadians, and we hope to attract new doctors to this wonderful waterfront location," says Mr. Hanna. "From the patient's point of view, they will be able to meet with their doctor and fill their prescription – all in one convenient location."
The Edison Building will feature 32 luxury condos along with ground floor commercial space when completed. It will join the Cotton Mill Lofts and the Weave Shed as two restored historic mill buildings that date back to the late 1800s. The developer plans to build two additional residential buildings in the area.
The pharmacy is expected to open in late October 2015.