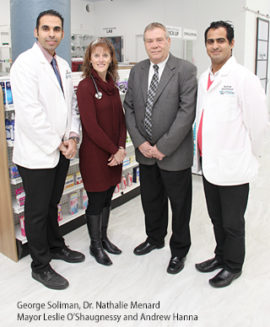 Cotton Mill Pharmacy Opens Its Doors
November 16, 2015
Cornwall Ontario – Residents of the historic Cotton Mill district welcomed a new neighbour today, as the Cotton Mill Pharmacy opened its doors this morning.
Situated on the ground floor of the newly revitalized Edison Building, the pharmacy overlooks the new breezeway that connects the Edison Building to the Weave Shed. Pharmacist Andrew Hanna and his wife Elizabeth have been working hard over the past several weeks to get ready for the opening.
"It has been hectic as the tradespeople have worked hard to make our space ready for us to move in," notes Mr. Hanna. "We could not be happier – the pharmacy is bright and modern, and situated in a building with such a powerful history."
"On behalf of Cornwall City Council, I would like to congratulate Mr. Hanna on his investment," said Mayor Leslie O'Shaughnessy. "The addition of a pharmacy and medical offices will help pave the way for more commercial development in the historic Cotton Mill District."
Mr. Hanna has welcomed George Soliman as a partner in the business. Mr. Soliman will be the Pharmacy Manager.  The two plan to hire an additional six people as business increases.
"We are fully stocked and ready to serve the public," notes Mr. Soliman.
The Cotton Mill Pharmacy will be open from 7am to 9pm Monday through Friday, Saturday from 9 to 5 and closed on Sundays, with emergency pharmacy service available after hours. The pharmacy will be a full service pharmacy offering:
over the counter products
prescription medication
behind the counter medication
food/drinks
customized medication
home health care products
pain management treatment
The pharmacy is easily accessible from Cotton Mill Drive and has 140 free parking spots for pharmacy and medical office customers.
Mr. Hanna is also the owner and senior director of the future Cotton Mill Medical Center, which has now opened.  Dr. Nathalie Menard has been appointed as a director of Cotton Mill Medical Center.
"Dr. Menard and I are both committed to provide the best possible health care to the community," says Mr. Hanna.
"It's been a absolute privilege to be working closely with Andrew in this new venture. He is a  bright young pharmacist and I know he will take care of our community" says Dr. Menard. "Andrew has established what Cornwall has been long overdue for, and with his energy I see great things".