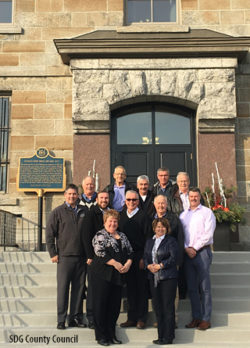 County Building Receives Major Makeover
December 5, 2017
Cornwall Ontario – One of Eastern Ontario's most historic buildings has just received a significant makeover.
The County Administration building located at Pitt and Water Streets has received major renovations to both the interior and exterior of the building. The building is one of the oldest surviving public buildings in Ontario.
"A review determined that the building required an upgrade to a number of key elements," notes Tim Simpson, Chief Administrative Officer with the United Counties of Stormont, Dundas and Glengarry.  "The landscaping was tired and not in keeping with the significance of the building. A more efficient workplace was needed for both clients and staff, and elements were added to enhance security and energy efficiency."
The County building is the administrative centre for all municipal operations of the United Counties of Stormont, Dundas and Glengarry. In addition to the Council Chambers, the building houses administrative offices, Provincial Offences court, and the SDG Historic Jail.
Major enhancements to the interior included the development of a new 3rd floor reception area, renovated 2nd floor boardroom, improved office space and security enhancements.
Enhancement to the exterior included the installation of new energy efficient windows to replace windows that were original to the building.   Exterior landscaping included new stone elements, interlocking brick, and soft plantings along with a new granite sign.
Interior work commenced in late 2016 and was completed in November 2017.  Landscaping work done during the summer of 2017. In all, the work totalled about $700K.
DeSaulniers Construction was the general contractor for the interior renovations, with a variety of sub-contractors used throughout the project, including Dwyer glass for the windows. All landscaping works was done by Scherer Landscaping.
About the County Building
The County Building is located at 26 Pitt Street in Downtown Cornwall. The Courthouse was originally constructed in 1833, and the County Administrative wing was added in 1888.  The North wing was added in 1959.
About the United Counties of Stormont Dundas and Glengarry
The United Counties of Stormont, Dundas and Glengarry is an upper-tier municipality in Ontario that is comprised of six local municipalities, North Stormont, South Stormont, North Dundas, South Dundas, North Glengarry and South Glengarry.  Geographically located west of Montreal and south of Ottawa, SDG has a land area of 3,297 square kilometres and is home to 66,840 people.
More info can be found online:
Categorised in: Business