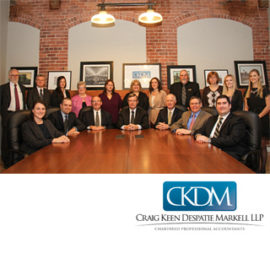 Craig Keen Despatie Markell Celebrates 60th Anniversary
December 9, 2014
Cornwall Ontario – There are a lot of important milestones in business. The first sale. Hiring new staff. Celebrating anniversaries.
Celebrating your 60th anniversary is a rare milestone, and it is one currently being enjoyed by Cornwall's largest accounting firm.
Established in 1954 by Mr. Bryson Comrie, what is now the accounting firm of Craig Keen Despatie Markell LLP (CKDM) has provided 60 years of the highest level of professional accounting, taxation and auditing services to Cornwall and area clients.
"We are proud to count some of Eastern Ontario's best companies and organizations as long time clients," says Mike Despatie, Managing Partner. "We stand committed to providing excellent local professional accounting and auditing services."
CKDM has evolved from the small accounting firm established by Mr. Comrie to a firm that now employs 22 people, seven of which have been with the firm for more than 25 years, and provides auditing, accounting and taxation services to hundreds of clients.  Staffed by nine Chartered Professional Accountants and eleven accountants and support staff, CKDM offers its clients over 325 years of combined professional accounting experience.
Throughout the years, CKDM has existed under many different names, a result of the firm having had 18 different partners throughout its 60 years in business:
McLeod, Comrie & Co.
Comrie, Blakely & Craig
Blakely, Craig, Viscount & Co.
Blakely Craig & Co.
Craig Gareau Keen Despatie Markell LLP
Craig Keen Despatie Markell LLP
In 2011, CKDM relocated to modern offices in the historic Cotton Mill District in Cornwall's Le Village area. In 2013, the firm admitted Paul Desnoyers, Erin Lalonde and Ian Murphy into the Partnership.
Throughout the course of its history, CKDM has been a constant supporter of Cornwall and its community.  The firm has donated more than $200,000 to important causes such as the Cornwall Community Hospital Foundation, Cornwall Hospice, Children's Treatment Centre and the Benson Centre.
Staff and partners are also involved in the community through various organizations such as the Cornwall & Area Chamber of Commerce, St. Joseph's Continuing Care Centre, Laurencrest, Team Cornwall, Children's Aid Society, SD&G CPA Association, Big Brothers Big Sisters, Red Cross, and many more.
"We would like to thank our countless clients for their loyal support over the last 60 years," said Mr. Despatie. "We look forward to providing the same level of professional service for another 60 years and beyond."
About CKDM Chartered Accountants
Craig Keen Despatie & Markell provides professional accounting services to individuals, businesses and municipalities. The firm's client base is comprised of a full spectrum of the commercial community located throughout Eastern Ontario, including proprietorships, partnerships, corporations, municipalities, not-for-profit entities and charities. Its services encompass accounting, auditing, taxation, financial planning, business valuation, estate and succession planning, employment compensation and pay equity consulting.
More info can be found online: