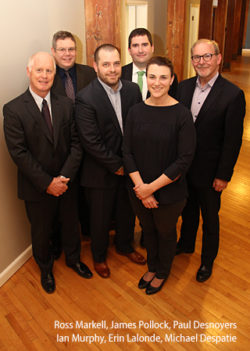 Craig Keen Despatie Markell to Merge with MNP
April 4, 2018
Cornwall Ontario – Cornwall's largest accounting firm is merging with Canada's fifth largest national accounting and business consulting firm.
Craig Keen Despatie Markell (CKDM) is the largest full-service accounting firm in Cornwall, consisting of six partners and 13 staff, all of whom are from Cornwall and the surrounding area.
As of June 1, CKDM will merge with MNP, which has grown to more than 70 locations across Canada and delivers diverse services and specialized expertise in every sector and area of business.
While CKDM was looking to deliver more specialty services to the marketplace, MNP was looking to build upon its regional presence with a location in Cornwall. The new office will enhance the services MNP offers to clients across the area, building on the firm's existing presence in Ottawa, Kanata and Brockville.
"Changing and dynamic market conditions are impacting the way businesses must operate – including our own firm," explained Ian Murphy, Partner, CKDM. "We are continually looking at new ways to help our clients achieve their goals. By joining MNP we can add more local and national resources, more specialized services and a broader range of industry expertise and experience."
Established in 1954, CKDM has provided professional accounting, tax and consulting services to a diverse client base for over 64 years. The Cornwall team will remain at their current location at 709 Cotton Mill Street, which will be rebranded as MNP in June.
One of the deciding factors to join MNP was the culture.
"Although MNP is a large national firm, it's always been local in focus with a small-firm culture and commitment to supporting the local community," noted Mr. Murphy. "We knew joining MNP would be a good fit for our clients and our team and we are excited about the future."
Jeremy Cole, Executive Vice President, Ontario, Quebec and Atlantic Canada, MNP, said adding the Cornwall location was a good fit, both from a regional standpoint and in terms of MNP's strategic plans for expansion across Eastern Canada.
"As we continue to grow our firm to serve the needs of this thriving region, we are excited to welcome a well-established accounting firm that shares our values and client-centric approach," said  Mr. Cole.
MNP first entered the Ontario market in the summer of 2008 and since that time has grown to 23 locations, while continuing to look for like-minded firms and professionals who can help them build on strategic plans for growth in Eastern Canada.
"The economy of Cornwall has diversified significantly over the past decades and, as such, has proven to be very resilient. Cornwall continues to attract companies in a range of sectors; all of which MNP is already intimately serving," added Cole. "We are excited to build on the strong presence our MNP teams have already developed servicing diverse clients in the region and are looking forward to helping more businesses in the area reach their full potential."
In addition to tax and accounting expertise, MNP delivers a diverse range of advisory services, including consulting, enterprise risk, corporate finance, valuation and litigation support, succession planning, insolvency and restructuring, investigative and forensic accounting, technology solutions and cyber security, cross-border taxation and much more.
"As part of MNP, our clients will benefit from access to hundreds of MNP professionals and specialists across more than 70 Canadian locations coast to coast, as well as more than 40,000 professionals in over 100 countries globally through its Praxity alliance," added Murphy.
MNP credits its strategic mergers and acquisitions, organic growth, value-added services and values-led culture with catapulting the firm to the highest year-over-year growth rates of any of Canada's top accounting firms.
"To maintain our culture, we have been very strategic about who we invite to join our family," said Cole. "Both MNP and CKDM's cultures and values are well-aligned and we share the same entrepreneurial approach to doing business. It's truly a win-win for both our firms and the Cornwall and area marketplace. We are thrilled to have found the perfect firm to join forces with – one that puts clients first."
You can learn more about each firm on their respective websites:
Categorised in: Business