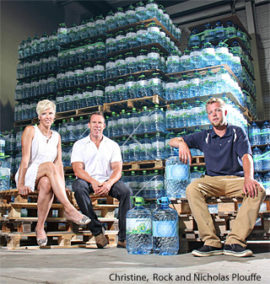 Cristill Rock Launches Planet Pure – The Evolution Of Bottled Water
December 4, 2014
Cornwall Ontario – Cristill Rock continues to expand its business by introducing innovative niche products that meet consumer needs.
The Cornwall based company recently launched Planet Pure after two years of research and development.
Planet Pure offers a revolutionary alternative in today's bottled water market.
The entire Planet Pure bottle is 100% OXO Biodegradable along with the label, cap and comfortable carry handle. Earth-conscious consumers can choose to recycle their Planet Pure bottles or simply put into their garbage. The entire packaging will decompose with no harm or impact to the environment.
"There was a lot of research involved into developing the Planet Pure bottle as we had to combine many suppliers together to be able to get a 100% Biodegradable product," says Rock Plouffe. "The entire product has been approved by Health Canada."
The Planet Pure bottles are completely BPA free, do not require a deposit and  there is no chance of contamination as consumers get a new bottle each time. The bottles fit on any water cooler, work with any water manual pump system and also work with a flojet system.
"The response has been phenomenal in the wholesale part of the business, and we have introduced this new packaging in Eastern Ontario including Ottawa." says Mr. Plouffe.  "We are definitely looking at expending west of Cornwall towards Toronto."
Part of the Planet Pure brand includes a remineralized water product. Water is exceptionally purified by a unique six step process, including vapor compression distillation, then is remineralized with over 72 organic and assimilated trace minerals.
The minerals in Planet Pure are high in magnesium and plant based. The product contains a full spectrum of all the minerals in a balance natural to the body and is developed using solar technology to concentrate the minerals without the use of chemicals or dyes.
"Minerals are the catalysts for all the vitamins and other nutrients your body uses for developing and maintaining good health," says Mr. Plouffe. "Planet Pure will maintain your PH balance, replace your electrolytes, and will help strengthen bones, joints and teeth. It is like spring water but far surpasses it in terms of the absorbability of minerals as the majority of minerals found in spring water are not bio-available and cannot be readily absorbed or assimilated by your body.
Rock and Christine Plouffe have invested over $250,000 into the project and yet the pair of entrepreneurs are not quite finished.   They are currently working with a cooler manufacturer to develop a water cooler specially designed for this new bottle.
"The cooler will be very different as far as the size and look, therefore, offer a people a product that is very compact and a solution that is completely made and assembled in Canada," says Mr. Plouffe. "We should have our first cooler available early 2015."
About Cristill Rock
Cristill Rock was created by Rock and Christine Plouffe in 1994 following the birth of the couple's first child Nicholas. Then, as now, the pair of entrepreneurs strongly believed in the health benefits of "pure" water.
Cristill Rock were the first in the Cornwall area to offer the Keurig coffee system, offering coffee pods to their clients back in 2006. As pod coffee makers became more and more popular, sales also took off with the general public.  Cristill Rock now offers over 350 different varieties of coffee.
As the company enters its 21st successful year it looks to continue to lead in market changes and offer the very best quality water and coffee products to its customers. Nicholas has now joined his parents in running the company and is part-owner.
You can learn more about Cristill Rock online:
Photo courtesy of Jason McNamara of Framed Photography.