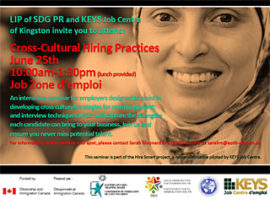 Cross-Cultural Hiring Practices Seminar
June 21, 2013
Cornwall Ontario – A seminar is being hosted in Cornwall next week which will create awareness and capacity within small and medium-sized businesses to recruit, train and integrate internationally-educated individuals into their workplaces.  Hire Smart, a national project piloted by the KEYS Job Centre will provide details to local employers that will help them recruit and train people who have moved here from other countries.
The seminar takes place Tuesday June 25 from 10 a.m. to 2 p.m. at Job Zone on Pitt Street in Downtown Cornwall. Attendees will learn about recruitment strategies and tools as well as interview techniques for culturally appropriate hiring practices while looking at ways to put our international talent to work.
The seminar on Tuesday is a "trainer session" delivered to service agencies and HR professionals in one community to increase the capacity to reach out to more employers in that community. Participants of the seminars will be asked to provide feedback to assist in refining the curriculum. Later this year, the series of seminars will be repeated to community employers with the content changed depending on the feedback received from the attendees of the first series.  Train the Trainer sessions may be offered to service agencies and HR professionals at a later date.
The seminar is being done in partnership with the Eastern Ontario Training Board's Local Immigration Partnership (LIP) – a group mandated to develop a strategy to attract, retain and integrate newcomers into our community.
Through surveys, community consultation and focus groups the LIP  identified four key areas in the five Eastern Ontario counties (Stormont Dundas Glengarry and Prescott Russell) that could be improved. One of the four key areas identified was better assisting immigrants at accessing appropriate employment; skill levels recognition, employer attitudes, and cultural barriers to employment retention were among top challenges.
Newcomers are ready to enter the Canadian work world and employers in Stormont, Dundas and Glengarry, as well as Prescott-Russell are ready to explore the idea of hiring and learning more about the benefits of hiring newcomers.
The LIP has been working on and continues to address the employment challenges by:
Identifying employer champions to assist in development of a community wide campaign highlighting merits of hiring immigrants
Promoting the development of a Newcomer Business network
Developing and delivering diversity training for employers
Helping to bridge the gap between employers and newcomer candidates
Creating a network of employers who can work together to champion the cause of hiring immigrants