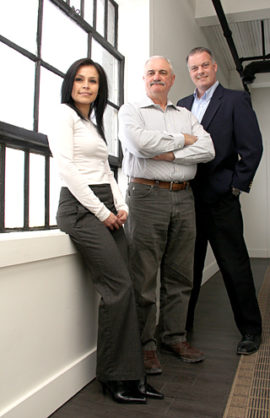 Customer Service Fuelling Growth of Expedite Direct
March 29, 2016
Cornwall Ontario – There is a new player in Cornwall's fast growing logistics sector.
Expedite Direct is a company offering a variety of transportation services to companies in Canada and the United States.
"The emergence of Cornwall as a major hub of supply chain activities has created opportunities for small companies to offer specialized and personalized service," says Denis Flaro, owner of Expedite Direct. "Expedite Direct was created to fill the niche demands that large companies struggle to meet."
Expedite operates an 8 vehicle fleet of GPS equipped Mercedes sprinter vans and small straight trucks, specializing in shipments 6000 lbs or less.
"Unlike most companies, when our trucks pick up a customer's shipment it is not mixed with other freight — it's exclusively their shipment in the truck from pick up to delivery," notes Derek Waycott, Sales Manager. "This practice guarantees quality service and gives our valued customers direct door to door service in the time agreed upon."
Although the company is relatively young, having opened its doors in late 2015, company officials tout over 30 years of experience in fulfilment of time-critical shipments. Employee levels continue to grow, and the company now employs 12 people.
Expedite Direct has been able to build a client base of over 100 customers that include Fortune 500 firms involved in sectors as diverse as aerospace and mining. The company has also worked with promoters and entertainers to move equipment for shows such as Cirque du Soleil.
"One of our strengths is our flexibility and ability to get the shipment to its destination on time – no matter what that shipment may be, with total communication and clarity," says Mr. Waycott.
Expedite is located at 407 Fourth Street in Cornwall. The company has also recently opened a cross-dock facility in Ogdensburg New York.
Expedite Direct can be reached at 613-935-6938 or online at www.ExpediteDirect.com
Categorised in: Business