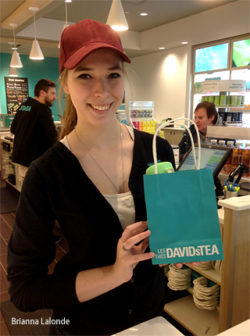 DAVIDsTEA Opens at Cornwall Square
April 7, 2017
Cornwall Ontario – DAVIDsTEA has opened at Cornwall Square. The store is located near the food court on the second level.
Customers can choose from over 150 types of tea, including exclusive blends, traditional straight teas and exotic infusions from around the globe. The store also stocks a variety of innovative tea accessories from tumblers and infusers to tea sets and travel mugs.
In-store ''Tea Guides'' help novice and experienced tea drinkers alike select from the selection of premium teas and tea blends featured on the 'Tea Wall'.
"Cornwall has been excited about this opening since we first announced it," says Karen Burns, Retail Manager with Cornwall Square. "The store has been busy all day, with smiles all around."
One of those smiles belong to Brianna Lalonde, a student at St. Lawrence College who is excited to be working as a tea guide for one of Canada's fastest growing beverage companies.
"My mother introduced me to DAVIDsTEA a while ago, and I have been a big fan ever since," says Ms. Lalonde. "Everybody has been so nice. The customers are really great!"
DAVIDsTEA is one of a number of new merchants opening at Cornwall Square. Earlier this month Dollarama opened, and Captain George's Fish and Chips and fashion retailer Labels are exected to open soon.
About DAVIDsTEA
The first DAVIDsTEA store opened on Queen Street in Toronto in 2008. Before long, first time customers became regulars, neighbours became friends and the store became a community fixture. The same thing has happened at every new store since. Today DAVIDsTEA has over 200 stores in neighbourhoods and communities across Canada and the United States.
About Cornwall Square
Cornwall Square is a large enclosed mall that overlooks Lamoureux Park and the St. Lawrence River in Downtown Cornwall. The mall is home to over 60 retailers and restaurants.
Categorised in: Business