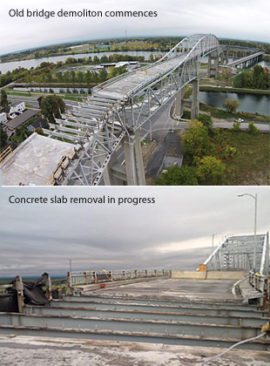 Demolition of Cornwall's Iconic Bridge Commences
October 2, 2014
Cornwall Ontario – Demolition of the iconic high level international bridge in Cornwall has commenced.
The American Bridge Canada Company will be doing the work on behalf of the Federal Bridge Corporation.
The high level North Channel Bridge of the Three Nations Bridge Crossing (also called the Seaway International Bridge)  spans  the north channel of the St. Lawrence River from Cornwall  to Cornwall Island. The bridge has formed a part of Cornwall skyline since its opening in 1962 and has reached the end of its useful life.
A new low-level bridge was built and opened earlier this year and has proven to be very popular with residents and visitors. Approximately 200,000 cars and 7,000 trucks use the new bridge each month.
The demolition is expected to continue until June 30, 2016. During the course of work, Brookdale Avenue from the traffic circle south to Water Street intersection may be subject to lane reductions and closures.  Advance notification of all lane and road closures will be provided to the travelling public.
The work to dismantle the bridge generally consists of the following activities:
Removal of the concrete deck, railings, fencing, signs, lighting, etc.
Removal of the steel superstructure (Including drain pipes, abandoned utilities, expansion joints and bearings)
Removal of the concrete substructure (North and South Abutments, Piers to the top of the footings)
Removal of the temporary shoring system on Cornwall Island and the north approach retaining walls.
Removal of the decommissioned toll plaza
Updates on the progress of work can be viewed at http://www.cornwallbridge.ca.
About Cornwall's New Bridge
Plans for the construction of the Seaway International Bridge were initiated in 1957 and consisted in building an international toll bridge system between the City of Cornwall and Akwesasne in Ontario and Massena, New York with the South Channel Bridge (1958) located on the US side of Cornwall Island and the North Channel Bridge (1962) located on the Canadian side. In 2010, the federal government announced the construction of the new North Channel Bridge through a $74.8M project planned in four phases. In January 2014, the new low-level North Channel Bridge opened for the first time.