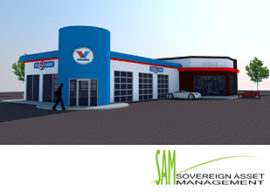 Development Project Proceeding On Brookdale Avenue
December 3, 2013
Cornwall Ontario – The streetscape along Brookdale Avenue is about to change with the construction of a new commercial plaza.
Sovereign Asset Management of Toronto has announced plans to build a 3,500 sq.ft. building at 1610 Brookdale Avenue that will house a 1,900 sq.ft. automotive business, and a 1,600 sq.ft. restaurant.
"We have been considering an investment in Cornwall for some time," said Charles Dyer, President and CEO of Sovereign. "This property is a relatively small development, but a good start for us in this market."
Workers are on site and construction is expected to be complete by early Spring.
The first confirmed tenant is Pro Oil Change, a Canadian owned and operated company that has been around since 1985. The Cornwall location will provide regular automotive parts maintenance to vital fluid replacement for all makes and each and every service is fully warranty approved.
"Pro Oil Change is a growing company, and Cornwall is one of 15 new locations that is scheduled to be open in Ontario and the Maritimes," said Mr. Dyer.
Mr. Dyer is currently in talks with a number of companies regarding the 1,600 sq.ft. restaurant space, which has designed to accommodate a drive through.
"Brookdale Avenue is a high-profile location with a lot of traffic, so the site is generating considerable interest," said Mr. Dyer. "We think it would be ideal for a coffee or sandwich place and expect to have a tenant signed up before construction is complete."
Mr. Dyer is no stranger to the retail real estate business, having managed over 400 store renovations and openings for major Canadian retailers before co-founding Sovereign Asset Management with Roger Ferreira in 2009. Mr. Ferreira has considerable experience and expertise in real estate and construction.
"Cornwall is an underserviced market – and one which is garnering the attention of retailers," said Mr. Dyer. "The next two years should prove to be an interesting one as the local retail landscape changes."
About Sovereign Asset Management
Sovereign Asset Management is a vertically-integrated property development company offering expertise in site selection, planning, design, and engineering. It is a privately held company currently developing high-traffic, single-user and multi-tenant retail locations across Canada. Projects completed to date include various retail developments throughout the GTA, Southern Ontario, and the Maritime provinces.