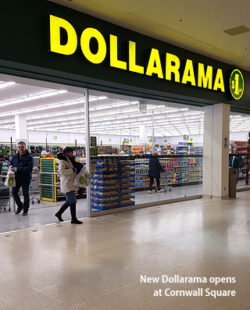 Dollarama Opens at Cornwall Square
March 30, 2017
Cornwall Ontario – Dollarama has opened its newest store at the Cornwall Square on Water Street.
The popular discount retailer has occupied approximately 15,000 square feet of previously vacant space.
"Our customers have been anxiously awaiting the store opening ever since it was first announced in September," says Karen Burns, Retail Manager with Cornwall Square. "The increase in activity at the mall is already noticeable."
With over 1000 locations across Canada, and 4 other locations in Cornwall, Dollarama is a popular discount retailer offering a broad assortment of everyday consumer products, general merchandise, and seasonal items.
Dollarama announced today that the average amount customers spent at its stores has increased, due to the introduction of new items for sale as well as a 7.8 per cent increase in the average checkout bill. The retailer plans to continue to open additional Canadian locations over the next several years.
Dollarama is the first of a number of new stores that are expected to open at Cornwall Square this year. David's Tea is expected to open in April, and Captain George's Fish & Chips is expected to join other food court tenants later this spring.
Fashion retailer Labels will open a store offering clothing for men and women in 2017 as well.
"We continue to market Cornwall Square to potential new retail tenants," says Jane Domenico, Chief Executive Officer at Partners Real Estate Investment Trust, owners of Cornwall Square. "The addition of new tenants and the increased foot traffic will certainly help."
About Cornwall Square
Cornwall Square is a large enclosed mall that overlooks Lamoureux Park and the St. Lawrence River in Downtown Cornwall. The mall is home to over 60 retailers and restaurants.
About Partners REIT
Partners REIT is a growth-oriented real estate investment trust focused on the expansion and management of a portfolio of 36 retail and mixed-use community and neighbourhood shopping centres. These properties comprise a total of approximately 2.5 million square feet of leasable space.
Categorised in: Business