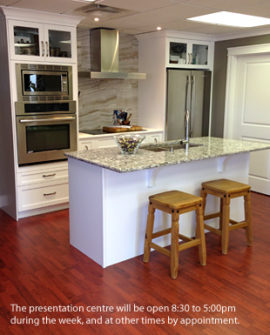 Dominion Place Opens Presentation Centre
June 20, 2014
Cornwall Ontario – Developers of the new Dominion Place condo project have opened a presentation centre to allow people to see and feel the quality finish that will go into the new building.
The presentation centre is located at 26 First Street West, just a couple of blocks away from the Dominion Place site at Pitt and Second.
"People can now see and touch what design elements we are including in each unit," says Ron Chenier, one of the key partners in the project. "We will also be on hand to answer any questions about the suite layout and options that each owner will have."
Dominion Place is a four-story luxury condo building being built in Downtown Cornwall. The building has been designed in a modern style with classical elements by renowned architect Heather Kembel.
Ms. Kembel is no stranger to Cornwall.  She was the lead Architect for Cornwall's impressive Central Public School, a design that features both an historic stone façade and striking modern building.
Ms. Kembel designed Dominion Place to complement the most noteworthy historic buildings in the area.
"In designing Dominion Place, we were very cognizant of the importance of this site in central Cornwall," said Ms. Kembel. "The history of the site and its prominent position demanded a building with presence and distinction; a building which will be referenced as a landmark in the city."
Dominion Place will feature a stone facade with large bright windows, with a curved corner facing the intersection of Pitt and Second Streets.
It was important that the building display a level of detail and elegance appealing to the discerning home-owner," says Ms. Kembel. "This will represent the fifth time we have worked with Bourgon Construction, and they bring a commitment to quality, attention to detail, and customer satisfaction to each of their projects."
Dominion Place offers 15 spacious suites, ranging from 2,379 to 2,551 sq. ft.. Each suite is available in several layouts that can be further customized to reflect the personal taste and lifestyle of each owner.
The presentation center will be open 8:30 to 5:00pm week days with evenings and weekends manned by ReMax Cornwall agents on appointment.
More info:
Dominon Place is also featured in the 2014 edition of Cornwall Living magazine. Click here to order your free copy!