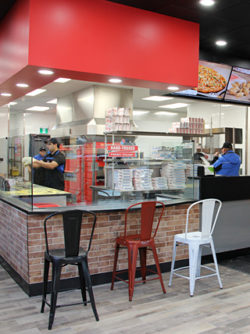 Domino's Opens Restaurant in Downtown Cornwall
November 16, 2017
Cornwall Ontario – Domino's Pizza has a new location in Cornwall – much to the delight of pizza lovers downtown.
The new restaurant is located at 16 Second Street East next to St. John's church. The freshly renovated interior includes a large cooking and preparation area that is visible to patrons. The brightly-lit restaurant, which represents a new model for the company, seats 24 and features modern wall and floor architectural elements.
"The downtown offers great pedestrian traffic and a central location for delivery," said Nathan Krishnan, who owns the local franchise.
Domino's celebrated the grand opening of the new restaurant by giving away 1500 pizzas, a move that quickly resulted in a long line up of hungry, yet happy, patrons.
Domino's Pizza was founded in Ypsilanti, Michigan by Tom and James Monaghan in 1960. The first Canadian restaurant was opened in Winnipeg in 1983.
There are now over 13,000 locations world wide, including 450 in Canada.
Domino's was previously located in Cornwall on Pitt Street, but closed earlier this year in preparation for the move. The new model has resulted in a larger restaurant with more employees.
Representatives from the Domino's Michigan Head Office were in Cornwall for the grand opening and walked around downtown and Lamoureux Park. They were impressed with what they saw.
The restaurant menu includes pizza, chicken, pasta, breads and dessert and is open 7 days a week. Patrons can order online for carryout or delivery.
More information can be found online:
Categorised in: Business