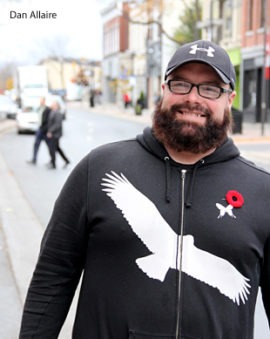 Downtown Cornwall is Booming!
November 4, 2014
Cornwall Ontario – The following article was written by Cornwall native and on-air personality Dan Allaire.
I love the vibe we have going on in Downtown Cornwall right now.  The stores that have been there for a while coupled with some of the newer ones are creating quite the synergy. You just have to look at the things you can do in our city's core and you get excited.
Let's go on a quick virtual tour shall we and begin leaving Lamoureux Park and head north…
As a dude who has been wearing spectacles his entire life I love the staff and service at Axxis Optical in the historic former Standard-Freeholder building, not to mention the good for the soul OBO art studio upstairs.  Behind all of this is Smart Greens, growing locally produced clean greens like kale, spinach and basil.
Next we move to the corner of first and get our hair done at Studio 101 (beard in my case), across the street Melody Music to keep our inner artists jamming. We can earn some spousal credits at Life's Little Pleasures, grab a bite and a pint at Bar Q or some clean organic and great creative offerings at the brand new Mindful Cookery which also has a whole foods grocery component.
If you missed getting your hair done at the corner, no prob the girls at The Loft can help in that department too.  Need a mani/pedi or a massage?  Head into Pure Esthetics for all that and more. Confession…I love getting pedicures, guys go try it if you haven't already.
Now I'm getting hungry again so let's head into Truffles Burger Bar or maybe upstairs at Table 21, maybe you're in the mood for something with a little German flare, well Schnitzel's is right across the street.
Need to have a special occasion,family shoot, engagement or professional pictures done, Framed Photography has just set up shop downtown now too.
There is even a spot for the kids called Kids Korner with stuff for newborns up to kids my age (41) and over. They have cool specialty items, games and other things you can only get there and their new outdoor look is spectacular.
Next we can expand our cultured side with a visit to the Cornwall Regional Art Gallery or go and get that special anniversary or birthday diamond of gem at Pommier Jewelers.
Did I mention we are only on block two and we can do all this on foot?  Turn onto Second Street heading east and get spoiled at VitalGlow or grb a cup a joe, a latter or machiatto at The Grind. Need another snack, stop at Love Love Food for some gourment treats or grab some sushi at Moon.
Now we cross the street and end up with some other cool places.  There is always room for a Riley's sandwich (the only one in the world that fills me) and some of their homemade treats.
Do you or someone in the family like comics, collectables, card games and just plain neat stuff?  Visit Fantasy Realm and they can take care of all that.
You can grab breakfast at Spinners or Pat's Home Cooking, do your banking, find a lawyer, an accountant and even get your computer fixed.
The thing here is I have not even named all this there is to discover downtown and not by design, I just figure by now you get the point. Things are happening downtown and I encourage you to go down and check it out for yourself.
I will likely see you there.
Dan Allaire is the morning co-host of the Boom Breakfast on Boom 101.9, which can be heard on quality radios throughout Cornwall and the surrounding region.