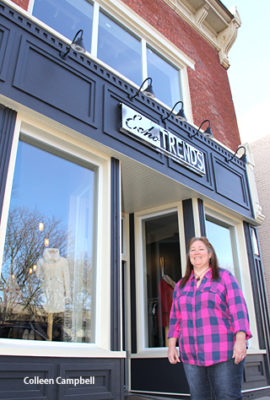 Downtown Heritage Celebrated with Building Renovation
December 10, 2015
Cornwall Ontario – One of Cornwall's oldest buildings is looking a lot better these days, thanks to an extensive facelift.
The 2-storey brownstone at 54 Pitt Street is better known to local shoppers as EchoTrends, a popular consignment store specializing in gently-used upscale clothing and fashion accessories. Spirit Tree Yoga, Cornwall's first Yoga studio also makes the building its home, on the second floor.
Although the two businesses are healthy, the building itself was showing signs of wear and tear, which is not surprising considering it was built over 100 years ago in 1894.
"It is a beautiful old building, and from the moment I bought it I had plans to improve it," says Colleen Campbell. "However, there was always something more pressing that kept delaying our plans to undertake the renovations."
Mrs. Campbell turned to Porter's Historical Restoration of Cornwall to handle the delicate task of repointing and repairing the brick work on the building facade.  A new steel beam and columns were added for structural support. New windows, and a hardy board finish were also added. The end result is a striking building that catches the eye of passers-by.
"We wanted to maintain the historical look and feel of the building, as architectural heritage is a big selling feature for Downtown," says Mrs. Campbell.  "We're very happy with the final results."
The project was supported by the City of Cornwall's Heart of the City Community Improvement Program, which provided a grant of $25,000 to offset the owner's investment of over $80,000.
"This was the first application we received under the Heart of the City CIP," says Dana McLean, Planning Programs Administrator. "The new building facade is beautiful and proves the old adage that some things are worth waiting for."
Mrs. Campbell plans to continue to improve her building over the next couple of years.
"Investing in Downtown Cornwall is a good business decision," she says. "The area is vibrant with new merchants and restaurants. We're happy to be part of that success story."
About the Heart of the City Community Improvement Program
Cornwall's Heart of the City initiative supports revitalization projects that occur in the downtown and Le Village business districts.  The program has a number of tools to help landowners undertake property improvements, with a special focus on aesthetic improvements, and the upgrading and renovation of commercial properties and ancillary residential units.