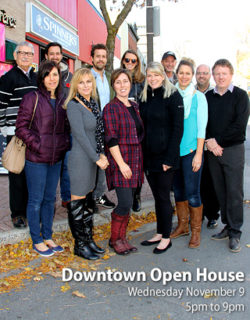 Downtown Open House – Holiday Edition
November 7, 2016
Cornwall Ontario – Downtown is the place to be Wednesday night as dozens of merchants will be joining forces to showcase their newest collections and introduce shoppers to current trends.
"Come and check out some of the best in food, art, healthy lifestyle options & more," says Chris Munro of Life's Little Pleasures. "There is always a little bit of magic in walking downtown on a lovely November night."
Shoppers will be able to take advantage of discounts, giveaways, draws & demonstations on Wednesday night from 5pm to 9pm. Artists will be displaying their wares and downtown restaurants are offering special menus.
"I am looking forward to the Downtown Open House  especially since this will be our last year to participate," says Conny Aube of Aube Freres, who is retiring after 45 years of providing fine men's and women's clothing to Cornwall families. "We will have special markdowns throughout Wednesday evening!"
Pommier Jewellers is working with JDL Entertainment to light up Pommier Square. Jamie Gibeau will be playing music throughout the evening.
Participating businesses include:
Life's Little Pleasures
Love Love Food
The Squire Shop
Dreamland
Cottage Blue Home
Schulmans
Spirit Tree Yoga
Pure Esthetics
Schnitzels European Flavours
Cailuan Gallery
Kids Korner
Laser Advanced Spa
OBO Studios
The Grind
Bicycle World
Cornwall & Area Pop Event
Fantasy Realm
Pommier Jewellers
Code Heroes
Aube Freres
Alpin's Interiors
Oasis Hair & Day Spa
Temple Studio of Fine Art & Dance
SDG Taekwondo & Sorvana
Axxis Optical
Echo Trends
Mindful Cookery
This is the fourth year that Downtown Merchants have held a special night of shopping. You can find more information on Facebook:
Categorised in: Business