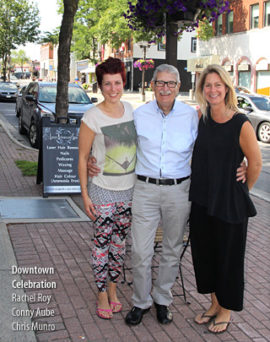 Downtown Summer Celebration Planned for July 24-25
July 15, 2015
Cornwall Ontario – Downtown merchants are rolling out the red carpet in a celebration of local shopping and sidewalk sale.
"Downtown Cornwall has never been more vibrant and we want to give back to the community," says organizer Chris Munro of Life's Little Pleasures. "Summer is a busy time in the city, and the last weekend in July is a great time to celebrate."
The Downtown Summer Celebration will take place Friday July 24 and Staurday July 25. The event is planned to complement Ribfest, which will be underway in Lamoureux Park. Ribfest organizers are expecting over 40,000 people will visit.
Downtown merchants will open later on Friday night, many will put out tables and have other specials in-store on both days.
"The goal is to add to the experience of Ribfest," says Tony Lacroix of Love Love Food. "We know thousands of people will be heading our way to visit the park. The celebration will give them a reason to leave a little bit earlier and enjoy a little bit of shopping and perhaps grab a bite to eat."
Over 25 Downtown Merchants are participating. Here is a current list:
Aube Freres
Mindful Cookery
Fantasy Realm
Dreamland
Love Love Food
Life's Little Pleasures
Framed Photography
Cottage Blue
Laser Advanced Spa
Schulmans
Table 21
Truffles
Moustache Joe's
Echo Trends
Kid's Korner
Pure Esthetics
Vitalglow
Spirit Tree Yoga
PURE Esthetics
Oasis Spa
Homefinder
Spinners
Pommier Jewellers
Chesley's Inn
Schnitzels
Additional merchants are expected to take part.
More information on the Downtown Summer Celebration can be found on Facebook, where an event page has been set up: