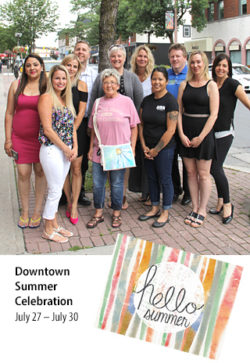 Downtown Summer Celebration this Weekend
July 26, 2017
Cornwall Ontario – Downtown Cornwall promises to be wall-to-wall sales, smiles and smells as the 2017 edition of the Downtown Summer Celebration gets underway.
Select businesses within the downtown shopping district will be staying open late, offering special discounts and celebrating from July 27 to 30. With thousands of Cornwall residents and visitors expected to congregate in and around Lamoureux Park for Cornwall Ribfest, as well as the annual Watchtower Convention at the Civic Complex, business owners felt it is a great time to put their best downtown foot forward.
"Summer is always a popular time and we see an increase in the number of people in our beautiful downtown," said Downtown BIA  Chair Brenda Campbell. "With events like the Downtown Summer Celebration it makes the experience for individuals that much sweeter."
Businesses will make individual decisions about how they wish to take part in the Downtown Summer Celebration. We'll be updating our list of participants in real time as they reach out to us with their plans.
Participating Merchants
Gordon Jewellers: Participating July 27-29 with tax included on all sales, with the exception of Q-Ray bracelets.
Laser Advance Spa: Extended hours – open both July 29 and 30.
Schnitzel's European Flavours: Drink specials including $20 on select pitchers of beer, and $1 per ounce wine on-tap (some restrictions apply).
Cailuan Gallery: Painting live on site each day.
Kid's Korner: Open late throughout the weekend, summer clearance sidewalk sale.
Life's Little Pleasures: A sidewalk sale with 50 per cent off items as well as other in-store incentives.
Kings and Little Ones Barber Shop: 25 per cent off ManSoap all natural products, including beard oils, beard balms, and small batch cold process soaps.
The Squire Shop: A sidewalk sale Thursday, Friday and Saturday.
Happy Birthday Georges
People are also invited to celebrate this Saturday by dropping by Pommier Square between 1pm and 3pm with birthday wishes for Georges Pommier. The iconic retailer is turning 90!
Historic Walking Tour
The Downtown Summer Celebration is a great opportunity to check out the newly expanded Historic Walking Tour. 10 new plaques  have been added downtown, each featuring colourful illustrations of historic scenes from Cornwall's past.
Free Parking and Free Transit
It will be free to park in Downtown Municipal Lots on Friday (July 28), Saturday (July 29), and Sunday (July 30).
People looking to travel by bus can ride Cornwall Transit for free on Saturday between 11 am and 11:15 pm by simply by informing the driver they are heading to Ribfest. On Sunday (July 30), Cornwall Transit will also be offering a free shuttle to Ribfest. The bus will arrive at the Civic Complex every half hour (beginning at 11 am) with stops at key points throughout the City.
About Downtown Cornwall
Cornwall's downtown includes some of the city's most vibrant locally owned businesses. The Cornwall Downtown BIA, with its over 150 member businesses, organizes an ongoing revitalization effort. With a focus on beautification and increasing patronage of the downtown, the DBIA is dedicated to making Downtown Cornwall a chosen destination for tourists and residents alike.
Categorised in: Business